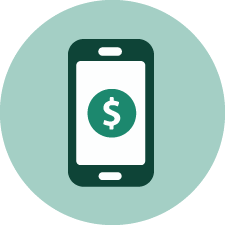 Please consider supporting St. Mary of the Angels with online giving, where your contribution is donated from your checking, savings, or credit card account. You may schedule your donations to be automatic:
Visit https://faith.direct/IL1082 or text "Enroll" to (773) 232-2991 to get started using FaithDirect.
Who is a Christian Steward?
One who receives God's gifts gratefully,
cherishes and tends them in a responsible and accountable manner,
shares them in justice and love with others,
and returns them with increase to the Lord.
This is the description offered in the Bishops' Pastoral Letter that paints a beautiful picture of a Christian steward. While every man, woman and child is born a steward, the practice of embracing this special way of life is an ongoing and ever-changing experience for each of us.
Stewardship begins with gratitude
We recognize that everything – family, friends, home, health, community, work, neighborhood, parish… – is a gift from God. In grateful response we share these blessings with others. How we spend our time, employ our special abilities, and dedicate a percentage of our financial gifts to the things of God reflect that gratitude and our commitment to the Biblical call for stewardship and discipleship.
Stewardship Today: Time, Talent & Treasure
Time
We often link time with talent, and understand it merely as volunteer efforts. But time means so much more. Time for family, neighbors, rest, fitness, friends and, most especially, prayer – these are essential in the life of a disciple. How do I allocate the time in my life and what does that say about my priorities?
Some practical examples of the proper use of time are:
spend time with spouse and children
attend Mass every Sunday
find time to pray every day
attend Thursday Eucharistic adoration
frequent use of the sacrament of confession.
Talent
The interests and abilities of our parishioners are extraordinary. A stewardship commitment simply asks, "How do I use my talents and giftedness in the service of others?" Our Parish community invites widespread involvement, but it is up to each individual to discover and discern how God is calling you to disburse your talents – within St. Mary of the Angels and throughout the world.
Our Parish organizations are constantly growing and looking for new members. We are always in need of lectors, men to serve as ushers, boys to be altar servers, volunteers for the school … Check out other groups such as Grupo Guadalupano, Young Adults, New Families Group, Moms and Tots…
We pray that the members of St. Mary of the Angels Parish will recognize stewardship as an act of faith – a spiritual response to the call of discipleship. This simple practice of identifying and sharing our gifts in an intentional and committed manner invites us to look at time, talent and treasure in new ways.
Treasure
For centuries people have sensed a close, personal relationship with God and have considered the practice of thoughtful and proportionate giving as a means of expressing their gratitude for all that God has given them. The Old Testament speaks of tithing and relates the tithe to a deep devotion to God.
The best way to support our Parish is to register as a parishioner and actively participate in our parish events.