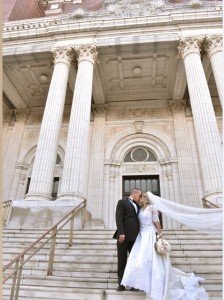 We at St. Mary of the Angels rejoice with you in your engagement! We will walk with as you approach one of the most important days in your life, your Marriage in the Catholic Church, and we will help you to prepare for the lifetime of marriage that follows this Sacrament.
Your married life begins by the solemn exchange of marital consent in the sacred liturgy of your wedding. The wedding is above all else an act of worship, a public celebration of one of the seven Sacraments of the Catholic Church. For this reason, we need to take care to ensure that the sacred liturgy is celebrated according to the Church and its liturgical law. Only Roman Catholic ceremonies are celebrated at St. Mary of the Angels.
To reserve a date for a wedding at St. Mary of the Angels, either the bride or the groom must be Catholic and active parishioner of this parish for at least four months before scheduling a wedding date. An active parishioner is defined as someone who regularly attends Mass on Sundays and Holy Days of Obligation and supports the parish using the envelope or electronic donation system.
All arrangements are to be made by either the bride or the groom personally. We are able to reserve a date and time for your wedding only when the following two requirements are fulfilled:
Meeting with the Wedding Coordinator
When we have received a completed reservation contract with the required deposit.
We celebrate weddings on Saturdays only, at 11:00 am 1:00 pm and 3:00 pm. There are no celebrations on Fridays or Sundays and there are no Marriages during Lent. The active parishioner can contact the Parish Wedding Coordinator here: 773-278-2644, Ext. 234 or mjaime@sma-church.org at least six months before the wedding date.
*We expect that the bride and bridesmaids' dresses will be suitably modest, in keeping with the sacredness of the marriage rite. (Shoulders and back need to be covered at all times, with a neckline that completely covers cleavage).
We invite you to read the wonderful document from the U.S. bishops: Marriage: Love And Life In The Divine Plan.
Marriage Preparation Classes – PreCana
St. Mary of the Angels offers Marriage preparation classes for couples getting married in our parish or at a different parish.
Our program is formed of five classes that take place on Thursday evening. Participants should attend all five classes (one evening a week for five weeks), which are held in the Parish Office at 7:30 pm. The cost is $180 per couple.
2024 Schedule for PreCana Classes
Session I: January 11, 18, 25 and February 1, 8: Register Here
Session II: August 1, 8, 15, 22 and 29: Register Here
If you'd like to pay the class fee online, Click Here
Topics
Class 1 Marriage and the Christian Way
The Sacrament of Matrimony
Class 2 Introduction to Christian Morality
The Family
Class 3 Moral Dimensions of Marriage
Understanding and Communicating with each other
Class 4 Natural Family Planning
Marriage and the Church
Class 5 The Experience of Married Life
The Mass – Its Importance