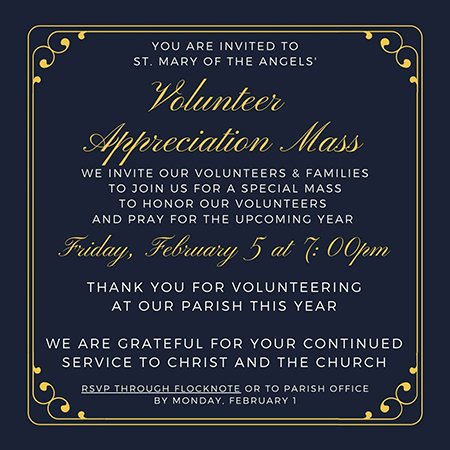 To our SMA volunteers and their families:
Thank you for your continued dedication to and support of St. Mary of the Angels' Parish. From our Mass volunteers to Family of Faith catechists, ProLife group, webmaster, Baptism Godfriends, and many more… our parish relies on the volunteers who share their particular gifts, talents and time with our parish. We know your involvement at SMA may have looked different in 2020, with many activities not taking place or being "virtual" rather than in-person, but we are so grateful for your continued involvement in sharing your gifts with our parish.
In February 2020, we were able to host a dinner to celebrate the many volunteers of our parish. Since we are unable to do that at this time, we would like to invite you and your family to join us for a special Mass to honor the men, women, and families who continue to share themselves with our parish.
Please find the full invitation attached to this email. You may share it with any other SMA volunteers; we hope all volunteers will be able to join us for this celebration!
Please RSVP through FlockNote or by calling Martha in the parish office by Monday, February 1.