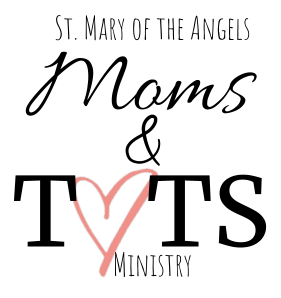 Moms & Tots is now back after our break because of COVID-19!
Moms & Tots is proud to be a ministry at St. Mary of the Angels. As an important facet of the future of our parish community, our mission is to provide support for mothers and expectant mothers by offering opportunities for both spiritual growth and social interaction.
Our group of mothers and children welcomes new members to join us for our Playgroup and other social and spiritual events at the St. Mary's campus. Please email to be added to our email list.
Join us every Wednesday from 9:30 – 11:30 am for a time to relax and enjoy a cup of coffee with other mothers while the children play. We have a large playspace for children to crawl, run and play. We welcome mothers with newborn to preschool-age children for social interaction and play. Our playgroup is located in the basement of the St. Mary of the Angels church. Enter through the South Tower and go down past the bathroom.
In addition to the regular schedule above, we offer opportunities for families to come together on Saturdays and resources for Catholic moms.
For more information, please contact momsntots@sma-church.org.