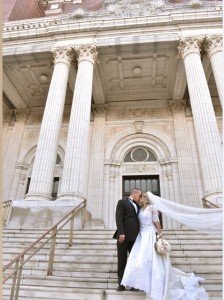 Engaged? Congratulations!
We at St. Mary of the Angels rejoice with you! We will walk with as you approach one of the most important days in your life, your Marriage in the Catholic Church, and we will help you to prepare for the lifetime of marriage that follows this Sacrament.
Your married life begins by the solemn exchange of marital consent in the sacred liturgy of your wedding. The wedding is above all else an act of worship, a public celebration of one of the seven Sacraments of the Catholic Church. For this reason, we need to take care to ensure that the sacred liturgy is celebrated according to the Church and its liturgical law. Only Roman Catholic ceremonies are celebrated at St. Mary of the Angels.
For more details, contact Martha, our Wedding Coordinator: 773-278-2644, Ext. 234 or mjaime@sma-church.org.
Timeline for Planning your Wedding Mass
9-12 months before your weddinG
Contact THE PARISH
Call as soon as you get engaged! Our Marriage Formation Coordinator  will meet with you to discuss your wedding preparations.
Contact Martha Jaime: 773-278-2644, ext. 234 or mjaime@sma-church.org
SCHEDULE A MEETING WITH A PRIEST
In this meeting you'll learn about the formation process for Holy Matrimony and the necessary paperwork. You will also set your tentative wedding date.
Begin Gathering Needed Documents
Baptismal certificate (Bride) 

Confirmation certificates (Bride)

(2) Witness Affidavits (Bride)

Baptismal certificate (Groom) 

Confirmation certificates (Groom)

(2) Witness Affidavits (Groom)
7-8 months before your weddinG
Complete the Couple's Inventory

The Better Together couple assessment will give you with a personalized profile of your relationship. Your Marriage Formation Coordinator will set this up for you, and upon completion, the pastor or staff will schedule a follow-up session to review your results.
Begin the Witness to Love Program
You will choose your own mentor couple to accompany you during your formation and throughout your first years of marriage using the Witness to Love model. You will have several meetings with them leading up to your wedding, and they will continue to be a support to you in the years to come!
6-7 months before your wedding
Meet with the Wedding Coordinator
When we have received a completed reservation contract with the required deposit.
NO Friday or Sunday Weddings, NOR during Lent. We celebrate weddings on Saturdays ONLY, at 11:00 am, 1:00 pm, and 3:00 pm.
Contact Patti Dire: 773-278-2644, ext. 234 or weddings@sma-church.org
Attend a Three to Get Married Retreat
The Three to Get Married weekend retreat is an opportunity for you to grow closer to Jesus Christ and to one another, building on the discussions you have had with your pastor and mentor couple. It will focus on marriage in the context of our Catholic faith.
Sign up for one of our retreats: 
Spring: February 18: Register Here
Summer: August 12: Register Here
Plan your Wedding Liturgy
Fill out Wedding Ceremony Planning Sheet.
Choose bride's and bridesmaids' dresses with the modesty suitable for the sacredness of the marriage rite. (Shoulders and back need to be covered at all times, with a neckline that  covers cleavage completely).
Wedding Coordinator must approve dresses and ceremony forms. 
Take a Natural Family Planning Course
NFP and Fertility Awareness Based Methods respect the love-giving and life-giving purposes of marriage while enriching the respect and bond between husband and wife. This course gives couples a holistic approach to understanding the cycles of femininity, fertility, and infertility. 
Certificate from an approved course is required.
2 months before you wedding
Gather Final Documents
Marriage License (from Cook County, valid for 60 days)

Witness to Love Completion Certificate

NFP Course Certificate

Three to Get Married Retreat Certificate
Schedule your final meeting
Certificate from an approved course is required.
The week of your wedding
Receive the Sacrament of Reconciliation
Catholics are strongly encouraged to receive the Sacrament of Reconciliation as the final preparation for the Sacrament of Holy Matrimony. Reconciliation and the Eucharist are invaluable sources of grace and healing. Celebrate this sacrament with your spouse-to-be!
Resources
We invite you to read the wonderful document from the U.S. bishops: Marriage: Love And Life In The Divine Plan.