Contagious Gratitude for Holy Mass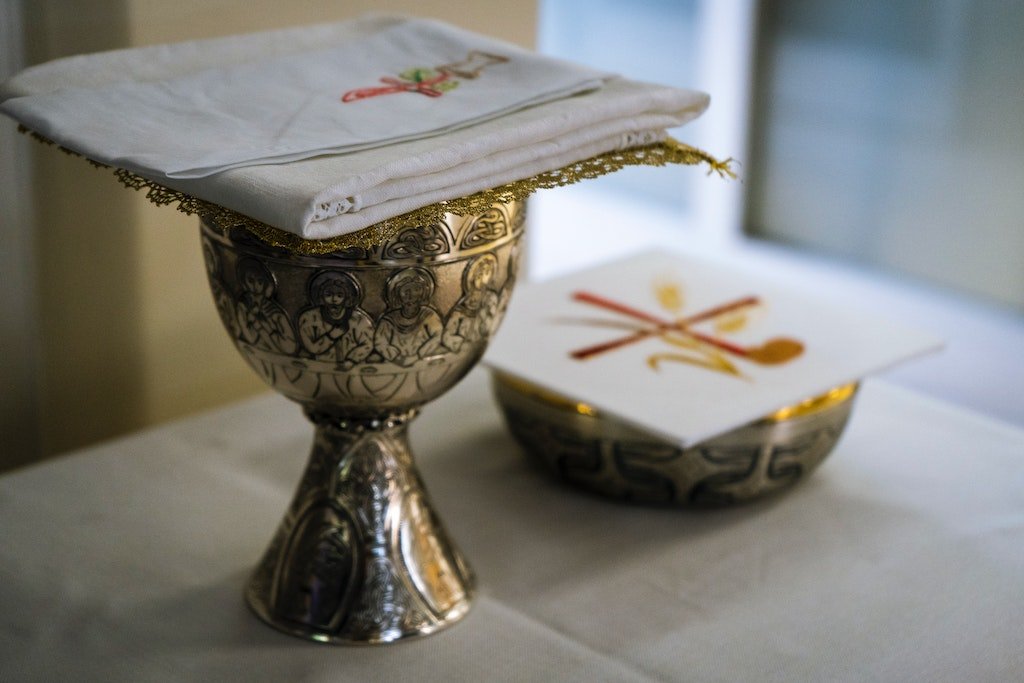 We are well into Advent, as the coming of the Christ-child is near. What a good time to find ways to bring joy and happiness to our family, friends, neighbors, and to all of Chicago. Last week we considered how to draw others to make a good Confession in preparation for Christmas by sharing with them our joy and gratitude for having experience God's merciful love and reconciliation. Now we can do the same with Holy Mass.
Are you grateful for Holy Mass? Why? Is it a chore or a gift for you? 
Imagine you received a new smart watch for Christmas. Wouldn't you be grateful, and wouldn't you communicate that to all your family and friends, and how you are now more on top of your schedule, more disciplined with you exercise regimen, how you can better screen and answer calls, navigate the streets, and keep track of your health? Of course! So, let's do the same with Mass.
I am grateful for Holy Mass… as it is a great break from technology and social media. Mass allows me to have a meaningful connection with God and with loved-ones, as well as with those who are suffering in the world. Mass engages my whole person, my spiritual, physical, and emotional being. There I can converse with God as my loving Father, with Jesus Christ, while listening to the Holy Spirit, allowing me to get out of myself and to give myself to God and others.
I am grateful for Holy Mass… as a place to listen to God's Word. There I get the big picture of what is happening in the world, not the narrow picture of CNN or of Fox News or of the New York Times. At Mass I don't feel manipulated by fear or anger, but can discern ways God is challenging me to grow and improve as a child of his in his bigger family of the Church.
I am grateful for Holy Mass… as a way of storing up treasures in heaven, freeing me from the slavery of materialism. As a foretaste of heaven, Mass helps me focus on what will truly make me happy… happy on the long term.
I am grateful for Holy Mass… where I can experience Christ's "greater love than this no one has than to lay down one's life for his friends" (John 15:13). Mass "transports" me to the foot of the Cross where I can experience someone loving me so much that he dies for me: I am worth all the blood of the Son of God!
I am grateful for Holy Mass… where I can experience the most intimate act of love possible, where I can become one body with my love, my friend, my God in Holy Communion. There I become one with all those who receive him in Holy Communion, transcending the barriers of hate and anger to produce true peace and reconciliation.
I am grateful for Holy Mass… because through it I enter into a Covenant of Love at the Wedding feast of the Lamb, enjoying the celebration with my whole family.
May your gratitude for both the sacrament of Reconciliation and the Eucharist be contagious! May it draw many people back this Christmas.
Gratitud contagiosa por la Santa Misa
Estamos bien adentrados en el Adviento, ya que se acerca la venida del Niño Jesús. Qué buen momento para encontrar maneras de llevar alegría y felicidad a nuestra familia, amigos, vecinos y a todo Chicago. La semana pasada estudiamos cómo atraer a otros a hacer una buena Confesión en preparación para la Navidad, compartiendo con ellos nuestra alegría y gratitud por haber experimentado el amor misericordioso y la reconciliación de Dios. Ahora podemos hacer lo mismo con la Santa Misa.
¿Estás agradecido por la Santa Misa? ¿Por qué? ¿Es para ti una tarea o un regalo? 
Imagina que recibes un nuevo reloj inteligente por Navidad. ¿No estarías agradecido, y no se lo comunicarías a toda tu familia y amigos, y cómo ahora estás más al tanto de tu horario, más disciplinado con tu régimen de ejercicio, cómo puedes filtrar y contestar mejor las llamadas, navegar por las calles, y hacer un seguimiento de tu salud? Por supuesto. Pues hagamos lo mismo con la Misa.
Estoy agradecido por la Santa Misa… ya que es un gran descanso de la tecnología y las redes sociales. La Misa me permite tener una conexión significativa con Dios y con mis seres queridos, así como con los que sufren en el mundo. La misa implica a toda mi persona, mi ser espiritual, físico y emocional. Allí puedo conversar con Dios como mi Padre amoroso, con Jesucristo, mientras escucho al Espíritu Santo, lo que me permite salir de mí mismo y entregarme a Dios y a los demás.
Agradezco la Santa Misa… como lugar para escuchar la Palabra de Dios. Allí tengo una visión global de lo que ocurre en el mundo, no la visión estrecha de la CNN o de Fox News o del New York Times. En la Misa no me siento manipulado por el miedo o la ira, sino que puedo discernir las formas en que Dios me desafía a crecer y mejorar como hijo suyo en su gran familia de la Iglesia.
Agradezco la Santa Misa… como una forma de acumular tesoros en el cielo, liberándome de la esclavitud del materialismo. Como anticipo del cielo, la Misa me ayuda a centrarme en lo que realmente me hará feliz… feliz a largo plazo.
Estoy agradecido por la Santa Misa… donde puedo experimentar el "amor más grande que éste no lo tiene nadie, sino dar la vida por sus amigos" (Juan 15, 13). La Misa me "transporta" al pie de la Cruz, donde puedo experimentar que alguien me ama tanto que muere por mí: ¡Valgo toda la sangre del Hijo de Dios!
Agradezco la Santa Misa… donde puedo experimentar el acto de amor más íntimo posible, donde puedo hacerme un solo cuerpo con mi amor, mi amigo, mi Dios en la Santa Comunión. Allí me convierto en uno con todos los que lo reciben en la Santa Comunión, trascendiendo las barreras del odio y la ira para producir verdadera paz y reconciliación.
Agradezco la Santa Misa… porque a través de ella entro en Alianza de Amor en las Bodas del Cordero, disfrutando de la celebración con toda mi familia.
Que vuestra gratitud por el sacramento de la Reconciliación y por la Eucaristía sea contagiosa. Que atraiga a muchas personas esta Navidad.
Photo by Lennon Caranzo on Unsplash