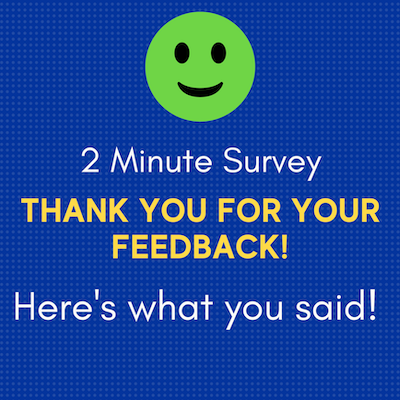 Last month we asked you all to take our 2 Minute Survey, telling us whether you would recommend our parish and our school to your friends and family. 509 people took the survey. 
Our consultant, the Institute for School and Parish Development (ISPD), reviewed our survey results and gave our parish a Net Promoter Scores of 72% and our school a Net Promoter Scores of 77%. The Net Promoter Score indicates the likelihood of someone coming to St. Mary of the Angels to speak positively of this experience and encourage others to give us a try. In its work with Catholic schools and parishes, ISPD found that a Net Promoter Score of:
70% and Above = Outstanding:
60% – 69% = Above Average: 
50% – 59% = Average:
40% – 49% = Below Average: 
39% and Below = Dismal:
In the survey you gave us ideas on how to improve St. Mary of the Angels, including facilities and programs. We have formed an Executive Team (of 8, including pastor and principal) and Core Team (an additional 15 school and parish leaders). These teams have already met to brainstorm opportunities of collaboration to improve SMA. We have grouped those opportunities into 9 challenges. 
Coming up with constructive solutions to those challenges is the next task at hand. We now are working on several planning team workshops to tackle that task of solving our global challenges, coming up with a collaborative strategic plan. 
Executive Team: Fr. John, Beth Dolack, Fr. Hilary, Gary Bilinovich, Bill Kipp, Heide Kenny, Mary Brown, Cathy Lipscomb 
Core Team: Martha Jaime, Dan Cheely, Jennifer Tengelsen, Karlo Leonor, Alli Smith, Mark Hermes, Kevin Gergits, Glenn Wilke, Adriana Giannelli, Marie Huguelet, Brian Lewis, Rose Roberts, Dennis Huyck, Gerry Kenny, Franz Berkemeier.
PLEASE PRAY for our teams and for our efforts at St. Mary of the Angels to Grow as a Family. In addition to the Memorare, this is the prayer we have composed for this initiative:
Jesus, Mary, and Joseph, help St. Mary of the Angels grow as a family of families, teaching us to love with a love that gives itself away. Help us seek solutions to our challenges as we answer your call to grow our family in love and holiness, forming a bright and cheerful home that fills our city and our age with the light of faith and the radiance of Christ's love. Jesus, Mary, and Joseph: Teach us of God's Love and Mercy, making your family our own.