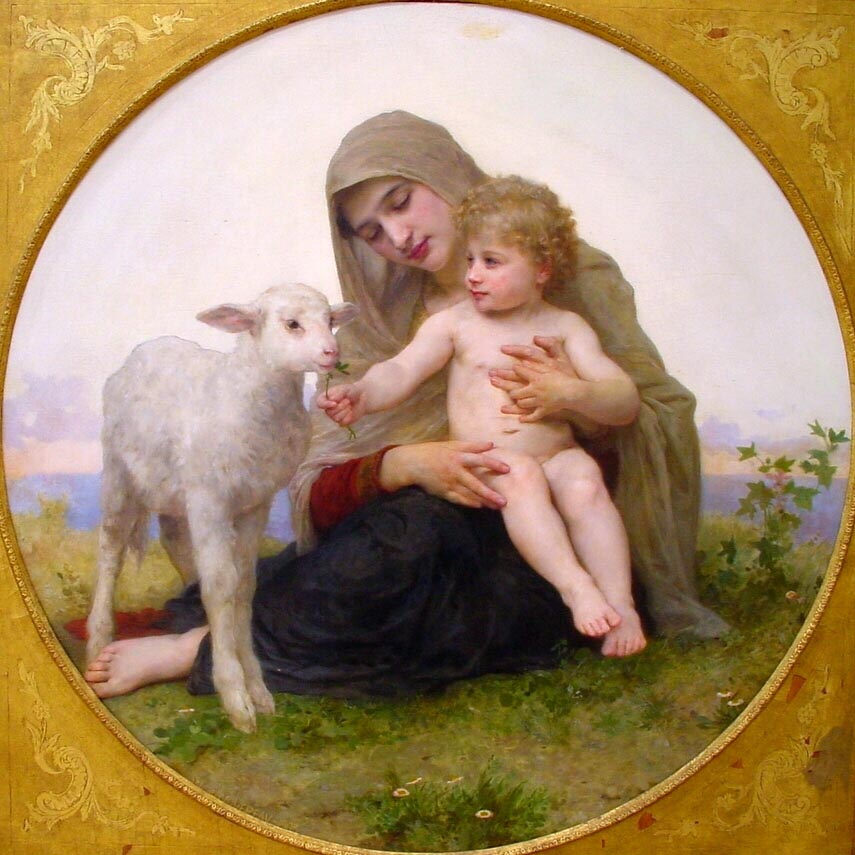 Mothers' Day is always so special. As children we have fond memories of making mom happy. First was to see how happy see was when dad did something special for mom, perhaps making her breakfast in bed—treating her like a queen—and then getting us kids ready for Mass so that mom could "do herself up" with calm. As little kids the simplest things we would do for mom always seemed to touch her heart and made her happy—scribbled drawings, flowers from the fields, which always seem to fade before we reach home, etc. No matter what we did, it made her happy, especially if we followed dad's lead. Mothers' Day was always a real family day.
I just have to ask our Lord: How would you have celebrated Mothers' Day, had it been the custom in your days in Nazareth? I'm sure St. Joseph would have taken the lead. Silent Joseph, he doesn't even speak a word in the Gospels. But his actions speak louder than words. We see him serving, sacrificing his own professional situation and successes for the wellbeing of Mary and the child Jesus: moving and switching jobs from Nazareth to Bethlehem; from Bethlehem to Egypt; then from Egypt back to Nazareth. Whatever sacrifice was needed St. Joseph did it. I'm sure that if they had the custom of celebrating Mothers' Day, St. Joseph would have taken the lead with flowers for our Lady, extra details of affection and service, so as to make the Virgin Mary feel like a royal queen, both of his heart and of their home.
Of course Jesus would have naturally gotten into the act. As perfect man, he had a great natural filial affection for his Mother. But that natural affection was linked to his eternal filial love for the Father. I'm sure he would look at Mary and perceive how the Father loves him through her. This would only draw him to love her more.
Christ's divinity is the exclusive fruit of the total gift of self of the Father to the Son; the Son is God because he puts no obstacles to the Father's gift. The Son is totally open and transparent to the Father's gift, receiving the Father's gift of his being and nature—his divinity—as the Father eternally engenders him. 
Yet Christ must have seen how his humanity incarnated the Father's love for him and for the Virgin Mary, and of her total openness, transparency, and response to that love. As the result, "the Word became flesh and dwelt among us, full of grace and truth; we have beheld his glory, glory as of the only Son from the Father" (John 1:14). Thus Christ's humanity harmoniously reflects his Father's eternal love and his mother's total response, giving flesh to his identity. 
So, how grateful Christ would have been to the Virgin Mary for her generosity! If God the Father in his divinity had "filled her with grace" (Luke 1:28), Jesus in his humanity would have done the same—as image of the Father (Colossians 1:15)—pouring out his human love and affection upon his mother.
May we also discover and grow in appreciation for how much God the Father has loved us in and through our spiritual and natural mothers. I cannot but think of all those women who have had—and continue to have—a maternal influence on my life: grandmothers, aunts, sisters, nuns, teachers, friends, etc., etc. May God bless all of you, and may He make the feminine and maternal "genius" of the women in our lives ever more powerful, with their ability to bring out the best in us.
Happy Mother's Day!
Fr. John Waiss