Preparing for Christmas with St. Joseph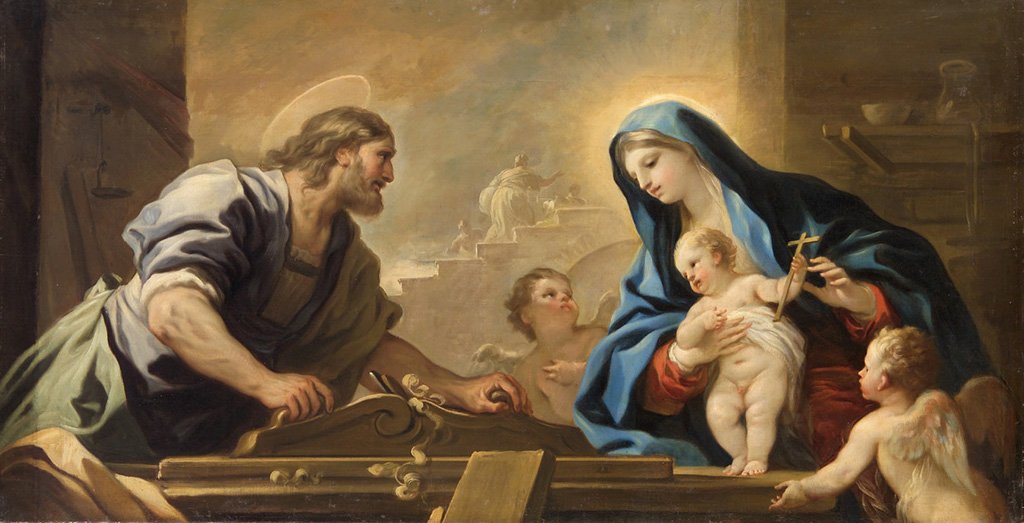 We are finishing this year of St. Joseph—it began on December 8, 2020 and ends on December 8, 2021, the 150th anniversary of his being declared the Patron of the Universal Church.
St. Joseph gives us a wonderful example on how to live Advent in preparing for Christmas. God chose him to be Mary's virginal husband and to safeguard her perpetual virginity with his life. He sensed that Mary's physical virginity represented something more, a spiritual virginity, a sinlessness that entailed a special relationship with God. Thus St. Joseph intuited Mary's Immaculate Conception, that God kept a perfect enmity between her and the devil as he promised Adam and Eve:
The LORD God said to the serpent, "Because you have done this… I will put enmity between you and the woman, and between your seed and her seed; she shall bruise your head, and you shall bruise her heel" (Genesis 3:14-15).
While St. Joseph embraced his calling, he felt out of place as God had put enmity between the serpent and the woman, and didn't see a place for him in God's plan. So, when he learned that Mary was "with child of the Holy Spirit" (Matthew 1:18)—perhaps just after the angel's Annunciation to Mary—Joseph wrestled with what to do. He loved Mary dearly, more than any man could love a woman, yet he also knew Mary was now God's chosen mother of the Messiah, the Woman who would conquer Satan with her Seed.
So God sent the angel to Joseph in a dream to tell him, "Joseph, son of David, do not be afraid to take Mary your wife" (Matthew 1:20), he realized that Mary was a gift to him and to the world, and that God was calling him—as he is calling us—to welcome her into his home and into his heart. 
Joseph was to take an important, though background, role in salvation history, as Pope Francis tells us:
The evangelist Matthew helps us to understand that the person of Joseph, although apparently marginal, discreet, and in the background, is in fact a central element in the history of salvation. Joseph lives his role without ever seeking to take over the scene. If we think about it, "Our lives are woven together and sustained by ordinary people, people often overlooked. People who do not appear in newspaper and magazine headlines. … How many fathers, mothers, grandparents and teachers are showing our children, in small ways, and in everyday ways, how to accept and deal with a crisis by adjusting their routines, looking ahead and encouraging the practice of prayer. How many are praying, making sacrifices and interceding for the good of all." Thus, everyone can find in Saint Joseph, the man who goes unnoticed, the man of daily presence, of discreet and hidden presence, an intercessor, a support and a guide in times of difficulty. He reminds us that all those who are seemingly hidden or in the "second row" are unparalleled protagonists in the history of salvation. The world needs these men and women: men and women in the second row, but who support the development of our life, of every one of us, and who with prayer, and by their example, with their teaching, sustain us on the path of life (Audience, November 24, 2021, quoting Patris corde, 1).
During this Advent, let's work at fulfilling our own "background" role, praying for those God has put in our lives: children, Godchildren, students, friends, family… trying to be a good example to those around us, showing them how to live lives worthy of God. St. Josemaría would agree:
We have to behave as God's children toward all God's sons and daughters. Our love has to be a dedicated love, practiced every day and made up of a thousand little details of understanding, hidden sacrifice and unnoticed self-giving. This is the aroma of Christ that made those who lived among our first brothers in the faith exclaim: See how they love one another!
The ideal is not out of reach. A Christian is no Tartarin of Tarascon, a literary character bent on hunting lions in the hallways of his home, where none were to be found. I always speak about real daily life, about the sanctification of work, of family bonds, of friendships. If we aren't Christian in these things, where will we be Christian? The pleasant smell of incense comes from some small, hidden grains of incense placed upon the burning charcoal. Likewise is the aroma of Christ noticed among men—not in a sudden burst of flame, but in the constant red-hot embers of virtues such as justice, loyalty, faithfulness, understanding, generosity and cheerfulness (Christ is Passing By, 36).
May St. Joseph help us live this holiness of the "second row" as we prepare ourselves to welcome the Virgin Mary and the child Jesus on Christmas morning.
Yours In Christ,
Fr. John Waiss
Luca Giordano, Public domain, via Wikimedia Commons