Jesus Wants Us to Have His Spirit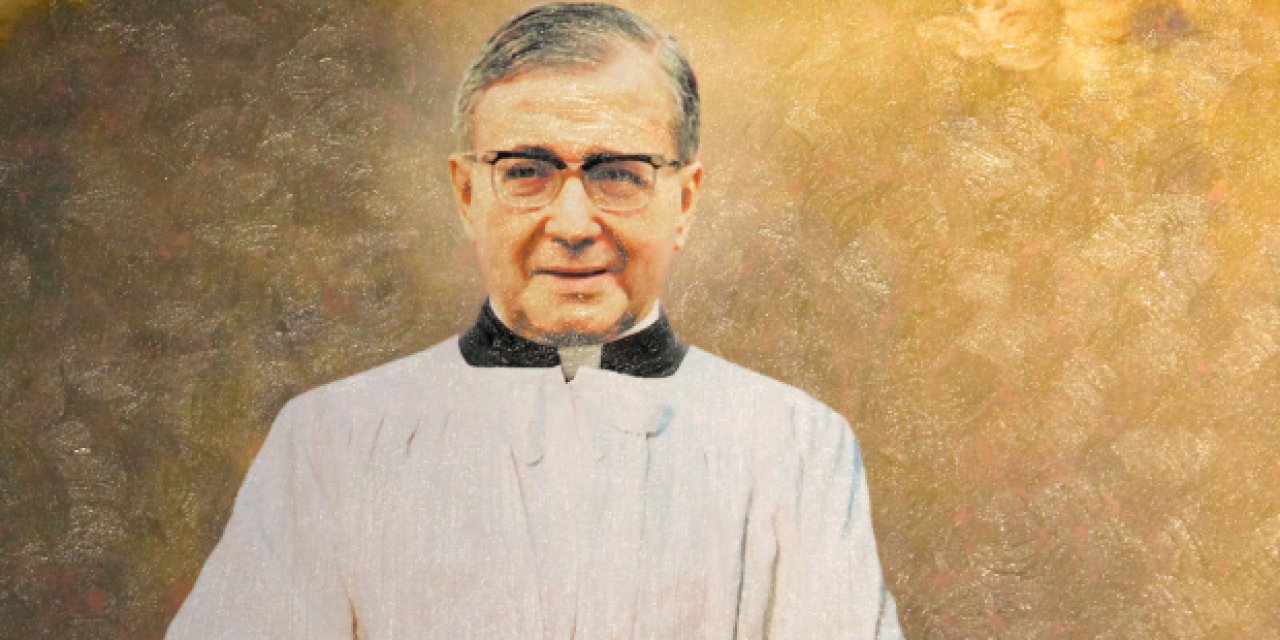 St. Josemaría's pastoral letter to Opus Dei faithful that he wrote (dated July 16, 1933), seemed to me to describe the current situation of our world, with insights on how we ought to proceed:
Jesus wants us to have his spirit. Do you see how he constantly longs to be with people? Aren't you moved to contemplate how he rejects no one? He speaks to one and all, with a kind word for each; and he teaches them with doctrine, brings tidings of joy and hope, with this marvelous, unique, truth of a God who lives together with men! … He addresses each one in the way each can understand…
Christ desires all men to be saved (1 Timothy 2:4), so that no one be lost. He longs to give his life for all in an outpouring of love that is a perfect holocaust. Jesus doesn't want to convince us by force. Living alongside men, he gently draws them to follow him in search of true peace and joy.
We, my daughters and sons, must do the same, as Christ's own love impels us: caritas Christi urget nos (2 Corinthians 5:14). With the ever new light of charity, with generous love for God and neighbor, we shall renew our desire to understand and forgive everyone. Seeing the Master's example, we don't want to feel we are enemies to anyone… By charity, you will sow peace and joy in the world, loving and defending the personal freedom of souls, the freedom that Christ respects and won for us.
The Work of God was born to spread our Lord's legacy of love and peace throughout the world…
My children, God has called us to the Work at a time when there is much talk about peace, and there is no peace: either in souls, or in institutions, or in social life, or among nations. People talk continually about equality and democracy, but closed, impenetrable castes hold sway.
He has called us at a time when people are crying out for understanding, and understanding is not lived, sometimes not even among those who act in good faith and want to practice charity, because charity, more than in giving, consists in understanding.
These are times when fanatical and intolerant people, deaf to the viewpoints of others, thrive with impunity, while accusing others who are their victims of being violent and aggressive. In short, God has called us at a time when many talk about unity, but it's hard to imagine a period of greater dissension, not only among men in general, but even among Catholics themselves.
In this climate, we have to set a courageous yet humble example of authentic Christian life marked by hard work, understanding and love for all souls…
My children, our zeal for souls should lead us to feel we are not enemies to anyone, but to have a big, universal, Catholic heart. We want to soar like eagles on the wings of God's love, and not shut ourselves into a chicken coop of petty quarrels and factions, which so often render sterile the activity of those seeking to work for Christ.
In a word, our zeal should bring us to realize that in Christo Iesu neque circumcisio aliquid valet neque praeputium, sed nova creatura (in Christ Jesus neither circumcision nor uncircumcision counts for anything, but a new creation—Galatians 5:6). What really counts, in every chance to do good, is service to souls.
I'm aware of the difficulties you'll encounter. It's true—as I always point out to you—that this world which you belong to and where you remain has many good things, signs of God's inexpressible goodness. But men have also sown cockle, as in the Gospel parable, and propagated false teachings which poison minds and cause rebellion, sometimes even violent rebellion, against Christ and his holy Church.
Faced with all this, how should a child of God in his Work react? Should we ask our Lord, like the sons of thunder, to send fire on earth to consume sinners? Or perhaps lament continually, like a bird of ill omen or a doomsayer?
You well know, my daughters and sons, that this is not our spirit because it is not our Lord's: Filius hominis non venit animas perdere, sed salvare (the Son of Man came not to destroy souls but to save them—Luke 9:56, Vulgate). I like to translate this verse freely by saying we must drown evil in an abundance of good. Our first obligation is to spread doctrine, while loving all souls.
You also know my rule of thumb to practice this spirit: holy intransigence for error and holy tolerance for people, who may be mistaken. You need, however, to teach many people to practice this doctrine, because it's not difficult to find those who confuse intransigence with bullheadedness, and tolerance with abdicating rights or compromising the truth.
We Christians cannot view the legacy of Christ's truth, the Church safeguards, as our personal property to dispose of at whim. It belongs to God, and his Church keeps it, and we have no right to cede, cut back or give way in what is not ours… [as the Catholic Truth] cannot be the object of compromise, because it is simply the truth, and the truth does not admit of compromise.
El Señor ha querido para nosotros ese espíritu, que es el suyo. ¿No veis su continuo afán por estar con la muchedumbre? ¿No os enamora contemplar cómo no rechaza a nadie? Para todos tiene una palabra, para todos abre sus labios dulcísimos; y les enseña, les adoctrina, les lleva nuevas de alegría y de esperanza, con ese hecho maravilloso, único, de un Dios que convive con los hombres… Se dirige a cada uno, según lo que cada uno puede entender…
Cristo quiere que todos los hombres se salven (1 Tim. 2:4), que nadie se pierda; y se apresura a dar su vida por todos, en un derroche de amor, que es holocausto perfecto. Jesús no quiere convencer por la fuerza y, estando junto a los hombres, entre los hombres, les mueve suavemente a seguirle, en busca de la verdadera paz y de la auténtica alegría.
Nosotros, hijas e hijos míos, hemos de hacer lo mismo, porque nos empuja esa misma caridad de Cristo: caritas Christi urget nos! (cf. 2Cor 5:14) Con la luz siempre nueva de la caridad, con un generoso amor a Dios y al prójimo, renovaremos, a la vista del ejemplo que nos dio el Maestro, nuestras ansias de comprender, de disculpar, de no sentirnos enemigos de nadie… Con la caridad, seréis sembradores de paz y de alegría en el mundo, amando y defendiendo la libertad personal de las almas, la libertad que Cristo respeta y nos ganó.
La Obra de Dios ha nacido para extender por todo el mundo el mensaje de amor y de paz, que el Señor nos ha legado…
Hijos míos, el Señor nos ha llamado a su Obra en momentos, en los que se habla mucho de paz, y no hay paz: ni en las almas, ni en las instituciones, ni en la vida social, ni entre los pueblos. Se habla continuamente de igualdad y de demacrada, y hay castas: cerradas, impenetrables.
Nos ha llamado en un tiempo, en el que se clama por la comprensión, y la comprensión no se vive, a veces ni entre las personas que obran de buena fe y quieren practicar la caridad, porque la caridad, más que en dar, está en comprender.
Son momentos, en los que los fanáticos y los intransigentes—incapaces de admitir razones ajenas—se curan en salud, tachando de violentos y agresivos a los que son sus víctimas. Nos ha llamado, en fin, cuando se oye hablar mucho de unidad, y quizá sea difícil concebir que pueda darse mayor desunión, no ya entre los hombres en general, sino entre los mismos católicos.
En esta atmósfera y en este ambiente hemos de dar el ejemplo, humilde y audaz al mismo tiempo, perseverante y sellado con el trabajo, de una vida cristiana, íntegra, laboriosa, llena de comprensión y de amor a todas las almas…
Hijos míos, el celo por las almas ha de llevarnos a no sentirnos enemigos de nadie, a tener un corazón grande, universal, católico; a volar como las águilas, en alas del amor de Dios, sin encerrarnos en el gallinero de rencillas o de banderías mezquinas, que tantas veces esterilizan la acción de los que quieren trabajar por Cristo.
Es un celo tal—en una palabra—el que debemos tener, que nos llevará a darnos cuenta de que in Christo enim Jesu neque circumcisio aliquid valet neque praeputium, sed nova creatura (Gal. 5:5), que—ante la posibilidad de hacer el bien—lo que verdaderamente cuentan son las almas.
No se me ocultan las dificultades que podréis encontrar. Es cierto—os lo hago notar siempre—que, en este mundo del que sois y en el que permanecéis, hay muchas cosas buenas, efectos de la inefable bondad de Dios. Pero los hombres han sembrado también cizaña, como en la parábola evangélica, y han propalado falsas doctrinas que envenenan las inteligencias y les hacen rebelarse, a veces rabiosamente, contra Cristo y contra su Iglesia Santa.
Ante esa realidad, ¿cuál ha de ser la actitud de un hijo de Dios en su Obra? ¿Será acaso la de pedir al Señor, como los hijos del trueno, que baje fuego a la tierra y consuma a los pecadores?. ¿O tal vez lamentarse continuamente, como un ave de mal agüero o un profeta de desgracias?
Sabéis bien, hijas e hijos míos, que no es ésa nuestra actitud, porque el espíritu del Señor es otro: Filius hominis non venit animas perdere, sed salvare (Luke 9:56, Vulgate), y suelo traducir esa frase diciéndoos que hemos de ahogar el mal en abundancia de bien. Nuestra primera obligación es dar doctrina, queriendo a las almas.
La regla, para llevar a la práctica este espíritu, también la conocéis: la santa intransigencia con los errores, y la santa transigencia con las personas, que estén en el error. Es preciso, sin embargo, que enseñéis a muchas gentes a practicar esa doctrina, porque no es difícil encontrar quien confunda la intransigencia con la intemperancia, y la transigencia con la dejación de derechos o de verdades que no se pueden baratear.
Los cristianos no poseemos -como si fuera algo humano o un patrimonio personal, del que cada uno dispone a su antojo- las verdades que Jesucristo nos ha legado y que la Iglesia custodia. Es Dios quien las posee, es la Iglesia quien las guarda, y no está en nuestras manos ceder, cortar, transigir en lo que no es nuestro… [porque la verdad católica] no puede ser objeto de compromiso, sencillamente porque es la verdad, y la verdad no tiene términos medios.