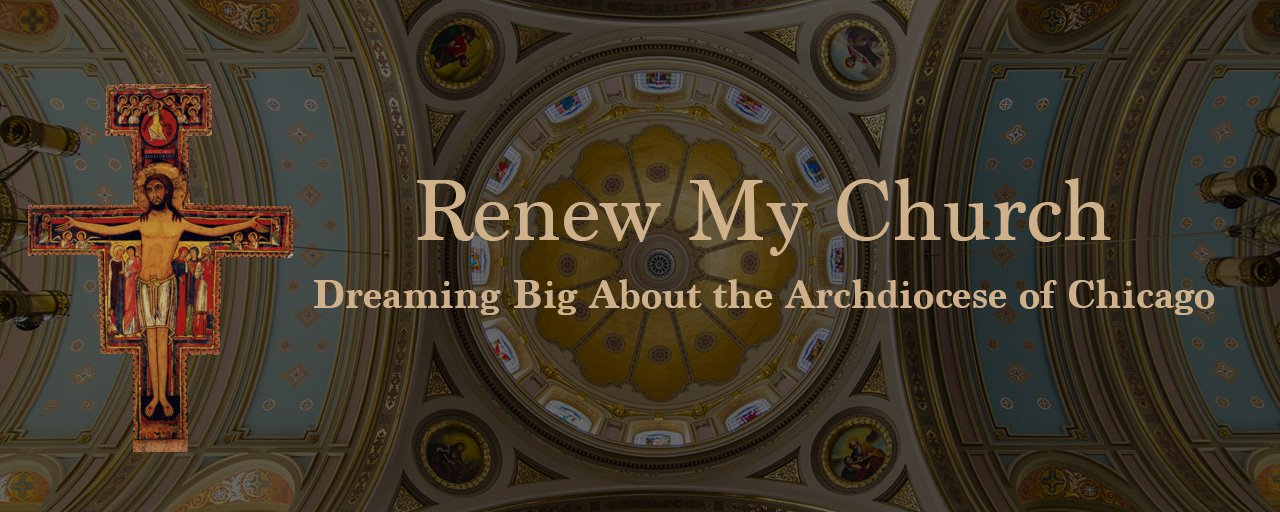 This is my version of a general overview of Renew My Church that focuses us on building up our parish in Christ. I encourage all to keep it handy as we try to each do our part in great missionary task. We will be using this as we move forward in growing St. Mary of the Angels. ~Fr. John
A Vision Overview of Renew My Church
Current challenge: Crisis of faith ("When the Son of man comes, will he find faith on earth?" (Luke 18:8).
Seen in Lower Mass Attendance, particularly among our younger Catholics
– Since 2000, Mass attendance has declined more than 45% in the Archdiocese of Chicago, like elsewhere, even in vibrant parishes. 85% of our younger generation do not actively practice their faith. The decline in Mass attendance during the pandemic is small in comparison. 
– Why the Decline? What made parishes strong 50 years ago—families and culture supportive of faith, plus parishioners were close-knit through neighborhood bonds—no longer exists today.
Seen in Fewer Priestly Vocations
– Although all are called to become the missionary disciples, even committed Catholics are afraid to share or explain their faith—the joy of the Gospel—feeling inadequately formed in a culture that pressures us to keep faith private, behind closed doors.
A unique moment in history "These world crisis are crisis of saints!" (St. Josemaría, The Way, 301)
Christ is calling everyone to personal conversion and renewal…
– People still hunger for meaning, despite record rates of loneliness, isolation, anxiety and despair, even higher during the pandemic. 
– Most believe in God's existence and value spirituality. Even non-practicing parents return to Church for their children's sacraments and find celebrating holidays meaningful for their families. 
– Troubled times has opened people's hearts to God's truth, love and forgiveness. 
… collective conversion and renewal
– Hope in Christ has cultivated a strong, multi-cultural legacy in the Archdiocese of Chicago, with a faith that has enriched the Church here, in the U.S. and in the world.
– Openness to the Holy Spirit has led our extraordinary response to the pandemic by reintroducing Christ to the world in crisis.
Called to: Make Disciples, Build Communities and Inspire Witness 
– Renewal needs missionary disciples on fire with the Holy Spirit—all parishioners, not just pastor and staff—inviting others to a life of faith in community to serve others in need.
– Parishioners at all stages in their discipleship journey need to be more equipped and supported to share what God has done in their lives.
The Holy Spirit inspires our vision and strategies for renewal 
After reading the signs of the times, five strategies of renewal stand out that can help parishes meet the challenge of a "new missionary age." These strategies have transformed parishes throughout the world and respect on our multi-cultural legacy and diversity: 
– Compelling entry points for exploring fundamental questions about life's meaning, God's presence in the world, faith in Christ, and the role of the Church. 
– Radical hospitality that counters isolation by fostering bonds of belonging with a grace-filled oasis of communion. 
– Vibrant liturgies, with reverence for the Eucharist, homilies that lead to an encounter with God, and music that supports prayerful and engaging worship. 
– Faith formation based on readiness, touching both hearts (encounter) and minds (catechesis) of disciples of all ages. 
– Outreach of love and charity to others in need and inviting others to a life with us in Christ. 
Stages of Renewal 
• Parishes start by "tilling the soil:"
– Becoming familiar with their parish history and accomplishments so as to remain true to their legacy that they seek to hand it on to the next generations. 
– Cultivating a vision of renewal that pastor, staff and parish leadership can embrace and share with the larger parish community. 
– Preparing the first group of active committed parishioners to feel comfortable in creating a space of belonging so that others feel drawn to a relationship with Jesus Christ and his Church. 
– Seeding a culture of missionary discipleship that welcomes all, no matter one's background. 
• Next parishes launch soft entry points and foster radical hospitality, building a group of missionary disciples who share co-responsibility for spiritual renewal of the parish. 
• As missionary disciples grow, parishes then take broader actions within the five strategies of renewal.