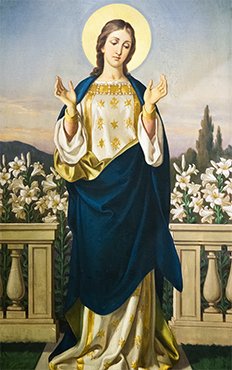 Summary
Over the past several months, the groupings' Feedback and Discernment Teams, made up of representatives from each of the parishes and schools, met to review and discern the future parish, school and church structures for their respective areas. Based on their meetings and discussions with the larger parish communities, they submitted feedback reports to the Archdiocesan Standards and Recommendations Commission, which includes representatives from across the archdiocese. The commission reviewed the feedback reports and other materials and information, including demographic data, financial summaries, and parish and grouping trends.  
Over the course of the past several weeks, Cardinal Cupich, our auxiliary bishops and Presbyteral Council discussed the commission's recommendations. Based on those discussions and prayerful consideration, the following decisions have been made:
Wicker Square Grouping
The Wicker Square Renew My Church grouping includes the following parishes and schools:
St. Aloysius Parish
St. Hedwig Parish
St. John Berchmans Parish and School
St. Mary of the Angels Parish and School
The new structure will be:
St. Hedwig and St. John Berchmans will unite to form a new parish,

 with a new name that will be determined later, at two worship sites. Both churches will continue to have a regular schedule of Masses, which may differ from their current schedule.
There are no structural changes to St. John Berchmans School.

Additionally, the commission recommends that St. Aloysius become an additional worship site for the new parish formed by unifying St. Helen, Holy Rosary and St. Mark.

  

St. Mary of the Angels and its school will remain in their current structure.
These changes will go into effect no later than July 1, 2021.
Additional information will be forthcoming regarding the assigned pastors. We hope to share this information within the next few weeks.
Full Details of Renew My Church Plan
Pastoral Letter
May the joy of our resurrected Christ be with all of you!
Dear parishioners,
As you know the process of Renew my Church brought together our four faith communities—St Mary of the Angels, St. Hedwig, St. John Berchmans, and St. Aloysius. The four parishes were given the common task to respond to Christ's call to prayerfully discern how to employ the particular gifts of each community so as to ensure sustainable and stronger faith-filled communities, facing the challenges of diminishing Mass attendance and parish income with structural and personal renewal.
Why did we enter into this process? Why, because Christ is constantly calling his Church to renewal. Each generation must be ready to pass on the faith to the next and to inspire new witnesses in the building up of the Church. As our society, neighborhoods, and the people change, we must respond to it within the context of our faith with the creativity of the love of God that we also wish to pass on to others.
At moments the process became overwhelming, confusing, and discouraging, a little like what the first disciples must have felt on Good Friday at the foot of the cross. Perhaps now you are experiencing that feeling right now as you mull over the announced decision, and you ask: What's going to change? Christ's disciples must have asked: Can't we go back to the way things used to be?
But like faithful followers of our Lord and Savior we must look beyond the cross. Every Good Friday is followed by an empty sepulcher, with the hope of a new beginning and a future that will allow us to experience the risen Christ who sends us on our mission to evangelize our families, our neighborhoods, our broader locale, and ourselves.
As we struggle with the disappointment of our Good Friday, let us respond with faith to an encounter with the risen Lord; let us open ourselves to a new Pentecost—our Pentecost—that never tires of growth, renewal, and a deeper affirmation of our Christian identity, inviting others to be part of this marvelous gift of salvation. This means, my brothers and sisters, that we allow the Holy Spirit—sent by our Savior—to guide us on our journey to the heavenly Jerusalem as we dare to build His kingdom here on earth.
May the Holy Spirit fill you with his peace and charity, making of us—as he did the first Christians—one heart and one soul.
Yours in the Risen Lord,
Fr. Claudio Diaz,
Fr. Pat Marshall
Fr. John R. Waiss
Fr. Tom Wojciechowski, C.R.