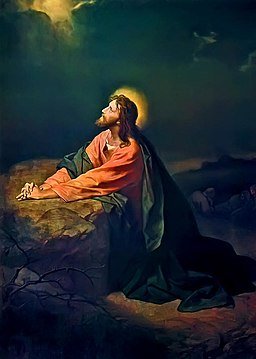 We have been praying a lot for the Renew My Church process: for St. Mary of the Angels, the three other parishes in our grouping, as well as for the whole Archdiocese of Chicago: we introduced the Renew My Church prayer into our Mass petitions four or five years ago, we have been praying the Memorare after Mass for and individually (people have committed to say 2,500 daily Memorares for our parish). We also composed a prayer to St. Joseph to guide our parish leadership toward effective evangelization and vitality.
Prayer is all-powerful. We believe this because our Lord himself told us so: "Whatever you ask in my name, I will do it, that the Father may be glorified in the Son; if you ask anything in my name, I will do it…  Truly, truly, I say to you, if you ask anything of the Father, he will give it to you in my name." (John 14:13-14; 16:23).
Jesus taught us to pray the Our Father, which is a prayer to do the Father's will.  This means that my prayer should go beyond myself and my particular wants, to seek a common good with the Father. As Jesus approached his deadly passion, he prayed: "'Now is my soul troubled. And what shall I say? "Father, save me from this hour?" No, for this purpose I have come to this hour. Father, glorify thy name.' Then a voice came from heaven, 'I have glorified it, and I will glorify it again'" (John 12:27-28). Jesus would continue that prayer in his agony in the garden:
"[At] a place called Gethsemane, [Jesus] said to his disciples, 'Sit here, while I go yonder and pray.' And taking with him Peter and the two sons of Zebedee, he began to be sorrowful and troubled. Then he said to them, 'My soul is very sorrowful, even to death; remain here, and watch with me.' And going a little farther he fell on his face and prayed, 'My Father, if it be possible, let this cup pass from me; nevertheless, not as I will, but as thou wilt.' And he came to the disciples and found them sleeping… Again, for the second time, he went away and prayed, 'My Father, if this cannot pass unless I drink it, thy will be done.' And again he came and found them sleeping, for their eyes were heavy. So, leaving them again, he went away and prayed for the third time, saying the same words" (Matthew 26:36-46).
Jesus asked that the cup of suffering be taken away, but only if be the Father's will. Even nailed to the Cross, Jesus teaches us to pray: "And when they came to the place which is called The Skull, there they crucified him, and the criminals, one on the right and one on the left. And Jesus said, 'Father, forgive them; for they know not what they do'… Then Jesus, crying with a loud voice, said, 'Father, into thy hands I commit my spirit!' And having said this he breathed his last" (Luke 23:33-34, 46).
Some may think that God the Father failed to grant his Son's prayer. But the Father granted his prayer, not before but after the cross, raising him from the dead. This was the answer that went way beyond everyone's expectation, fruit of his Son's obedience to the Father, obedience unto death, even death on the Cross (cf. Philippians 2:8).
Let's learn from the Master to embrace God's will—this is what we have been praying for—and ready ourselves to launch out into the deep with a new Pentecost, alongside our Blessed Mother, to bring people to Jesus Christ as did the apostles 2,000 years ago. So, as we await the Renew My Church decision tomorrow, we pray: "Father, not my will but your will be done."
Yours In Christ,
Fr. John Waiss