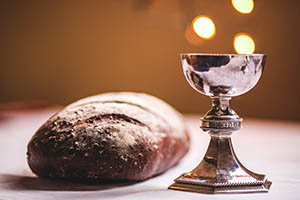 Along with Godparents, grandparents, aunts and uncles, parents educate your children in the Faith. Your example means everything to them: attending Sunday Mass each week expresses your faith, thanking God for the greatest gift his love could give: to receive him in the Blessed Sacrament. 
Parents can highlight the true meaning of First Holy Communion by guiding their child toward the greatness of this sacrament. The best gift is that of Jesus Christ in the Eucharist; nothing should distract a child's attention from this truth on this special day.
St. Therese at a young age understood that the Blessed Sacrament was truly God and a gift like no other. In her memoirs, St Thérèse of Lisieux recalls: 
"At last the most wonderful day of my life arrived, and I can remember every tiny detail of those heavenly hours: my joyous waking up at dawn… the room where we dressed… and above all, our entry into chapel and the singing of the morning hymn: 'O Altar of God, Where the Angels are Hovering.'
I would not tell you everything, even if I could, for there are certain things which lose their fragrance in the open air, certain thoughts so intimate that they cannot be translated into earthly language without losing at once their deep and heavenly meaning. How lovely it was, that first kiss of Jesus in my heart—it was truly a kiss of love. I knew that I was loved and said, 'I love You, and I give myself to You forever'… 
Soon [I] was weeping, to the astonishment of [my] companions, who later said to one another: 'Why did she cry? Was there something on her conscience? Perhaps it was because her mother was not there, or the Carmelite sister she loves so much.'
It was beyond them that all the joy of Heaven had entered one small, exiled heart, and that it was too frail and weak to bear it without tears. As if the absence of my mother could make me unhappy on the day of my First Communion! As all Heaven entered my soul when I received Jesus, my mother came to me as well. Nor could I cry because [she was] not there, we were closer than ever before. It was joy alone, deep ineffable joy that filled my heart… 
I was very moved by the family feast prepared at Les Buissonets and delighted with the little watch that Father gave me. Yet my happiness was very tranquil, with an inward peace no earthly thing could touch. Night came at last to end my lovely evening, for darkness falls even on the brightest day. Only the first day of Communion in Eternity will never end" (Story of a Soul).
Her family's celebration and her father's gift were simple, reinforcing the specialness of the day, but not dominating it. At 77 Pope Francis remembered his First Holy Communion too: "Today I am so thankful to the Lord because 70 years ago I made my first Communion," he said. "Let us all thank the Lord for our baptism, all of us thank him for our first Communion" (October 2014).
Here are some ideas, taken from LaFamilia.info, on how to make your child's First Holy Communion meaningful and memorable:
1. A Day to Share with the Needy
What a better occasion than First Communion to share with the lonely and needy. Perhaps you could visit a sick or elderly homebound or one in a nursing facility, or some chronically ill children in the hospital. Such an experience will never be erased from the child's minds and they will experience firsthand the true meaning of First Communion.
2. A Day of Thanksgiving
The children are surrounded by people who serve them (teachers, the cleaning staff at home or school, etc.). It would be very good for a child to thank them for making this day possible for such people, perhaps with cards, or by inviting the children of these people to enjoy an afternoon of movies, or an ice-cream social, or the amusement park with you.
3. A Family Day
 We can celebrate this important moment with family and close friends, a simple and intimate meeting; there is no need a lavish or big event. The important thing is to celebrate that Jesus entered our child's soul and heart, so we must explain that everything else is accessory. And make the celebration very happy and fun, but without making alcohol the main protagonist. 
Yours In Christ,
Fr. John Waiss
Photo by James Coleman on Unsplash