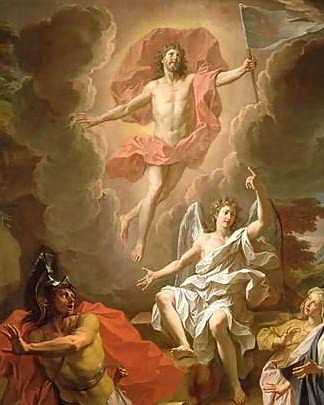 Easter 2021
Dear Parishioners and Friends of St. Mary of the Angels,
Abraham accompanied his only son, Isaac, as he carried the wood up Mount Moriah—Calvary. There Abraham would tie his son to the wood to sacrifice him. As he raised the knife to slay him, an angel stopped him, accepting this proof of his great love and obedience. This would prefigure what God the Father would do, offering his only Son, Jesus Christ, on Calvary, in a perfect sacrifice of obedience. He did this all for love of us—God's love for us is that great!
During this Lent, we have been going through the discernment process of Renew My Church. We are also experiencing the pain that goes with the realization that all things will not remain the same, knowing that we will have to reorganize our parish structures. We approached Jerusalem with Jesus and the triumphant troop of our Lord's disciples, but now await with Our Blessed Mother through this extended Holy Saturday, awaiting the decision.
Let's remember God's great love for us, his sacrifice of Love. And let's remember that Jesus Christ has risen! Let's have the confidence that we and our parish will also rise with him, in a new configuration, with new people to incorporate into this family of God, St. Mary of the Angels!
Jesus is the way (cf. John 14:6), so we must follow him. As St. Josemaría said: "To reach God, Christ is the way; but Christ is on the cross and to join him there our hearts must be free, free of all earthly attachments" (Via Crucis, station 10). He shows us the way of total self-giving, the way to eternal life: "Now there's just one way to live on earth: to die with Christ so as to rise with him, as St. Paul says: It is no longer I who live but Christ who lives in me" (Via Crucis, station 14, meditation 2).
And Our Blessed Mother, St. Mary of the Angels, is with us to help, teaching us: to love with a love that gives itself away. Let's keep praying those Memorares—now more important than ever—so that our new parish family be fully united in Christ's love.
Have a Happy and Blessed Easter!
St. Mary of the Angels Priests, Deacon, and Staff