Our grouping team has been meeting with a facilitator and the other grouping teams from St. Aloysius, St. Hedwig, and St. John Berchmans. After reviewing the strengths and challenges of the Bucktown, Wicker Park, and east Logan Square, we were presented with the initial scenario that would combine St. Mary of the Angels with St. Aloysius, and St. Hedwig with St. John Berchmans, making two parishes where there were four.
With this we meet the minimum criteria of financial income (needed is $750,000/year) and Mass attendance (needed is 800 attendees each Sunday), making it easier for fewer priests to meet the spiritual needs of this area. St. Mary of the Angels plus St. Aloysius should see Sunday Mass attendance of 1,500 (900+600) and yearly operating revenues of $1.1 million. St. Hedwig plus St. John Berchmans should see Sunday Mass attendance at 1,000 (500+500) and yearly operating revenue of $800,000.
Wicker Square Current Structure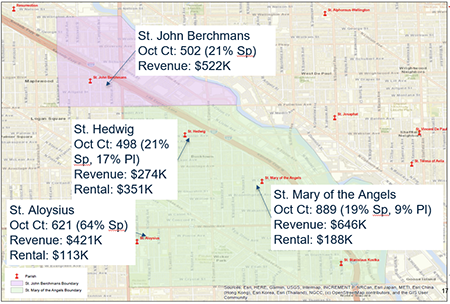 Proposed Scenario for 2 Parishes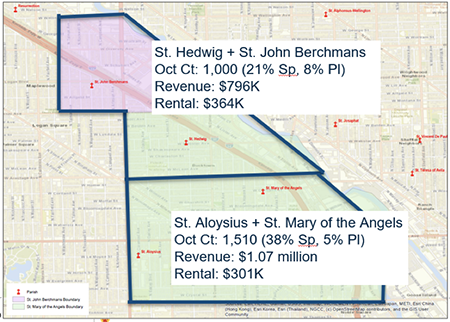 An alternative scenario being proposed and studied is for St. Aloysius to become a Mission of St Mary of the Angels Parish; the mission would be called St Aloysius Latino Mission of St. Mary of the Angels.
If the four parishes are united as two, we are discerning how best to do so, either to form new parishes (with new names or combined names), or have St. Aloysius (National Parish) unite into St. Mary of the Angels (a territorial parish) and St. Hedwig (National Parish) unite into St. John Berchmans (a territorial parish), or St. John Berchmans unite into St. Hedwig as the parish church. In all scenarios the schools (St. Mary of the Angels and St. John Berchmans) remain as is.
Also we are discerning—in each united parish—whether to use both churches for regular scheduled Masses, or use one church only for scheduled Masses and the other for funerals, weddings, etc., or whether to repurpose one of the churches for other ministry.
These are hard decisions for which the Cardinal and his team are asking for our input. They want to know how these scenarios meet the local needs of Bucktown-Wicker Park and our vitality and culture. Does it account for demographic trends? Can we afford facility repairs and maintenance? How manageable it will be for the pastors, aging clergy, and parish staff?
Please pray! Ultimately it is the Cardinal's decision but he appreciates and seeks our feedback. Please direct all feedback our way. You can attend our Zoom town hall on Wednesday, March 10, 7:00 to 8:30 pm, or complete our survey, or send us an email: info@sma-church.org.
Of course we count on your prayers. Keep the Memorares coming, if possible say even more.
Blessings,
Fr. John Waiss