Renew My Church at St. Mary of the Angels: Initial Feedback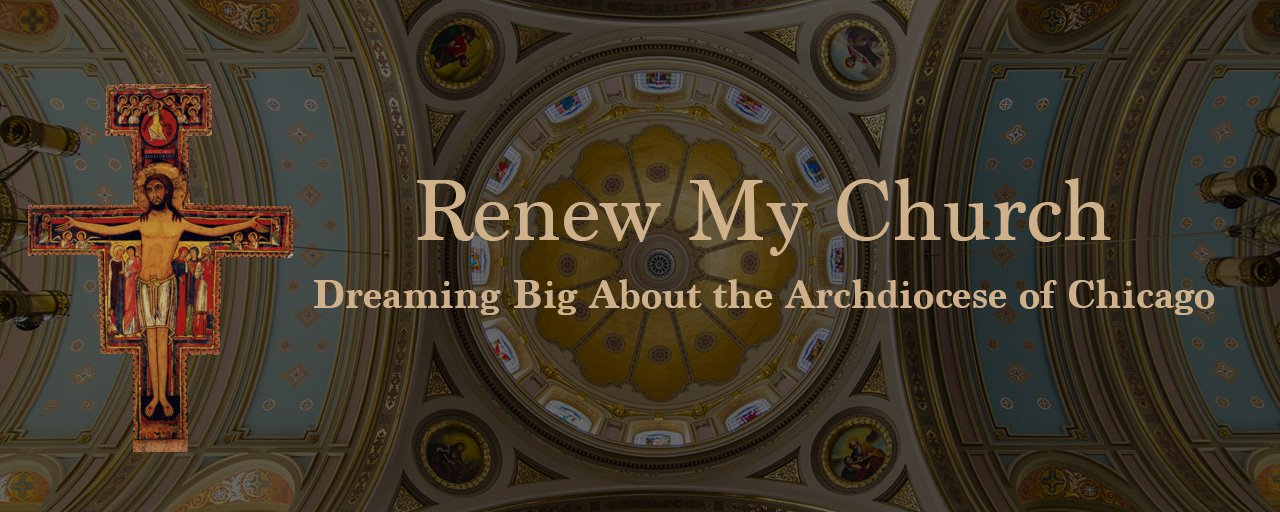 We began Renew My Church the last week of January and solicited your feedback—120 of you completed our survey. You identified St. Mary of the Angels strengths as being an icon of faith in Chicago (61%), great at fostering spiritual growth (53%), large numbers for the sacraments of reconciliation, weddings, baptisms, etc. (51%), and great sacramental preparation (30%); with our great location (34%), we have a lot of families with young children attending Sunday Mass (30%), a great ministry of service offered to youth and underprivileged families through Midtown and Metro (31%), and a school community that reaches many of the unchurched and supports Catholic families (25%); you appreciate that we are welcoming place to make friends (16%) with a financial stable parish (20%). Some noted that Opus Dei spirituality benefited the parish (5%), fostered spiritual growth (7%) through reverent liturgies and preaching that adhered to Catholic teachings (5%). Also, thank you for acknowledging all the priests that have served here throughout the years.
Challenges and Concerns
But there are certain alarming trends: only 9% of baptized children practice the faith after age 21 (72% noted this); the drop in weekly Mass attendance, both at St. Mary of the Angels and throughout Chicago (60%); active priests will decline from 520 to 360 in the next ten years because the Chicago Archdiocese is only ordaining 6 or 7 priests each year (50%). Others noted the trend of an increasingly secular culture, that only 1/3 of Catholics belief in the Real Presence and that fewer Catholics are sending their children to Catholic schools. Certainly, we priests and Catholic leaders, need to do a better job in our reverence, preaching, and in fostering vocations.
This is why St. Mary of the Angels has been trying to involve the entire family in the religious education process, focusing social activities, adult seminars and other initiatives on the family. This is also why the whole Archdiocese is going through the Renew My Church process.
Yet we all fear change, as 2 people noted. The major fear (of 23 people) is losing this beautiful church—particularly attractive and vital to young families (1 noted)—that helped transform the vitality of the neighborhood. Another 4 feared the closing of the school. 
Closing or consolidating schools is totally off the table—both St. John Berchmans and St. Mary of the Angels Schools have good enrollment and finances. While we can't anticipate any decision for the church, St. Mary of the Angels has a great track record of over 30 years of raising the funds needed to maintain, restore, and beautify the church, seeing this as part of our evangelizing mission. While we have the Mass attendance and financial numbers to remain alone, we need to discern how we can be most effective as a parish and the part we play in the bigger universal (i.e. catholic) church. That is my hope for Renew My Church process.
Others were concerned that any new parish will not have the same unique charism as administered by the Priests of Opus Dei and so dilute liturgy and teaching (12 people said this in different ways). Opus Dei priests and lay faithful are here to serve, as the Church wants us to serve, of course with our particular charism and spirit. Twice Cardinal Cupich has asked me to serve as Dean; I don't anticipate any change of heart. The Archdiocese recognizes and respects the diversity of charisms in Chicago, especially in this part of the city. Let's trust our Lord and Our Lady who have always protected us, and continue praying Memorares for our parish and the other three parishes of our grouping, as they too fear having to close. The devil loves to play our fears and anger to divide us from one another and from our Lord.
Some fear fewer Mass times (7 people) and confession times (3 people). If more begin coming to Mass and confession, we will add Mass and confession times. The problem is, in the Archdiocese and at St. Mary of the Angels, fewer people attend Sunday Mass without the number of Masses changing. Something has to give. 
Let's keep praying for this discernment. The decision isn't easy, but your feedback will make this decision more rational and effective. We'll continue this dialogue at the Parish Town Hall and in my note next week.
Yours In Christ,
Fr. John Waiss