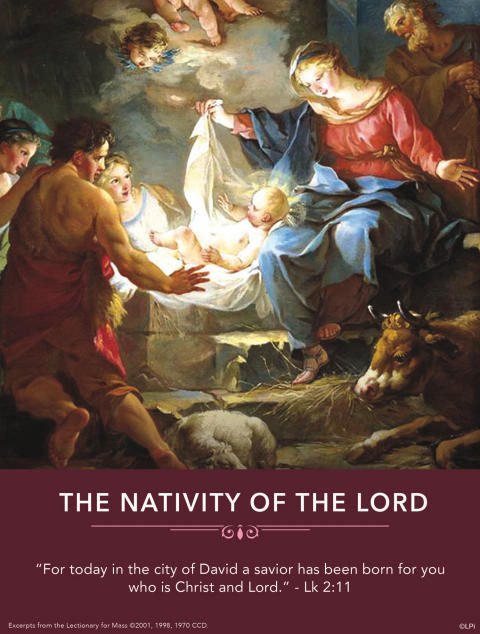 Happy Christmas!
Christmas is special when it includes Jesus Christ, Son of God and Son of Mary:
"For to us a child is born,
To us a son is given;
And the government will be upon his shoulder,
And his name will be called
Wonderful Counselor, Mighty God,
Everlasting Father, Prince of Peace" (Isaiah 9:5).
On the shoulders of this little child, the governments of the whole world rests… because he is our Mighty God.
So often we look to party politics, to public opinion polls and media moguls, to billionaires and power-brokers around us in the hope of change. This little child comes to touch the hearts of people of good will, offering to change us, to forgive our sins—especially in the sacrament of Reconciliation… try to bring others with you!—so that we can pardon others, reconciling our soured relationships to transform evil into good… he is our Prince of Peace.
The evil-one wants to snuff out Christmas, to kill the Child Jesus in Bethlehem through Herod. But with angels guiding the human cooperation of Joseph and Mary, Christmas was able to live on, offering us our longed-for peace. So, let us sing with the angels:
"Glory to God in the highest, and on earth peace among men with whom he is pleased!" (Luke 2:14).
May Christmas live on in your heart and home… May the little child bless you and smile upon you… May he fill your Christmas and all the New Year with great joy,
Fr. John Waiss, Fr. Hilary Mahaney,
Deacon Glenn Tylutki and staff of St. Mary of the Angels. 
PS: We have a new boiler with more reliable heat, new outdoor stairs on the Wood Street side, and a restored exterior of the North Tower. Thank you for your support. Next is to do a new interior of the North Tower with new bathrooms. Please pray that this goes smoothly.
Also, pray for the parish as we go through Renew My Church—we have over 2500 Memorares being said daily. We want to reach more souls with Christmas… with the Gospel of Jesus Christ!