Each month a group of women from the parish gather to discuss a book about the Catholic faith. Selections range from conversion stories to the lives of the Saints, deeper theological texts, and modern subjects relevant to women's lives.
Meetings are currently virtual and take place on the first Thursday of the month at 7:00pm.
If you are interested in joining, please email [email protected] or join our Flocknote (mailing list).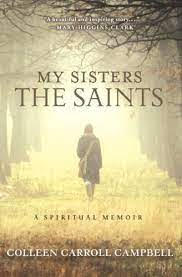 This month our Women's Book Club will be reading My Sisters the Saints by Colleen Carroll Campbell. "In My Sisters the Saints, Colleen Carroll Campbell blends her personal narrative of spiritual seeking, trials, stumbles and breakthroughs with the stories of six women saints who profoundly changed her life: Teresa of Avila, Thérèse of Lisieux, Faustina of Poland, Edith Stein of Germany, Mother Teresa of Calcutta and Mary of Nazareth. Drawing upon the rich writings and examples of these extraordinary women, the author reveals Christianity's liberating power for women and the relevance of the saints to the lives of contemporary Christians." (from Campbell's website). Discussion will be on Thursday, February 3 at 7:00pm.