Each month a group of women from the parish gather to discuss a book about the Catholic faith. Selections range from conversion stories to the lives of the Saints, deeper theological texts, and modern subjects relevant to women's lives.
Meetings are currently virtual and take place on the first Thursday of the month at 7:00pm.
The Power and the Glory by Graham Greene
This month we will jump into a novel by Graham Greene. "In a poor, remote section of Southern Mexico, the paramilitary group, The Red Shirts have taken control. God has been outlawed, and the priests have been systematically hunted down and killed. Now, the last priest is on the run. Too human for heroism, too humble for martyrdom, the nameless little worldly "whiskey priest" is nevertheless impelled toward his squalid Calvary as much by his own compassion for humanity as by the efforts of his pursuers." (from
Goodreads)
Discuss on Thursday, August 5 at 7:00pm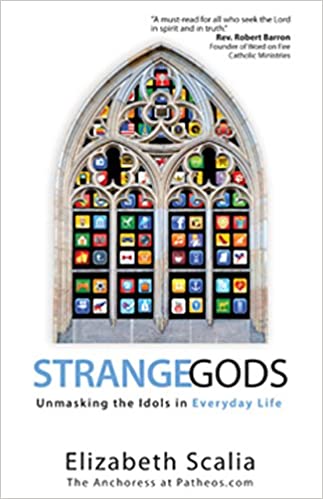 Strange Gods: Unmasking the Idols in Everyday Life 
by Elizabeth Scalia
"In
Strange Gods
, Scalia's debut book, she presents readers with a surprising look at the ways in which modern people still commit the sin of idolatry in their everyday lives. While literal golden calves no longer dot the landscape, Scalia describes how legitimate loves become obsessively twisted into idols. She unmasks idolatry in a number of everyday experiences and points to the incarnation of Christ and authentic worship of him as a way out of idolatry and into peace, happiness, and love." (
From Amazon)
Discuss on Thursday, September 2 at 7:00pm 
If you are interested in joining, please email [email protected] or join our Flocknote (mailing list).