Thank God for Thanksgiving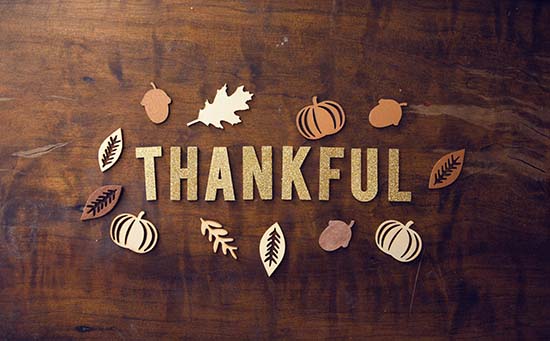 Thanksgiving is now the most religious holiday we publicly celebrate in the United States—unfortunately, many people now see Christmas as just a winter holiday for Santa and for giving and receiving gifts, having taken Christ, the Son of God, out of Christmas.
Thanksgiving reinforces values important to us at St. Mary of the Angels Parish: family unity, solidarity, respect, and gratitude to God. I thank God for each and every family here too—you give life to this parish and inspire us to continue striving to be the kind of persons God is calling us to be. We have great kids and great parents!
This holiday, according to tradition, came about when a group of settlers from Plymouth, Massachusetts, in 1621, shared a meal with Native Americans of the Wampanoag Tribe. Together they thanked God for the autumn harvest and the pilgrims thanked the Native Americans for teaching them techniques for cultivation and hunting.
Thanksgiving may even date back further, to September 8, 1565 in St. Augustine, Florida. That is when the Spanish explorer Pedro Menéndez de Avilés invited local Timucuan Indians to a dinner after thanking God in a Mass of Thanksgiving for their safe arrival to America.
President Abraham Lincoln proclaimed Thanksgiving as a national holiday in 1863, when we were still in the middle of the Civil War. Even in hard times we need to thank God. For many the pandemic will affect how they celebrate, with fewer able to gather to celebrate a delicious dinner (turkey or not) in their homes. Yet we can thank God for the many blessings this year, especially the heroism of our doctors and nurses (and other health care providers), of our police and firefighters (and other first-responders), for the priests, teachers, and others who had to make extra sacrifices to provide for our spiritual, educational, and emotional needs.
As you thank God let us remember to keep the less fortunate in our prayers and hearts, both here and abroad. Let us pray for all those who have died, thanking God for the many gifts to the world that have through their lives. Let us also pray for those who feel marginalized in any way or who feel like they don't have any family to share this special time together.
Also, take advantage of this holiday to forgive someone of any past hurt that may still be festering in your heart. God has given us our daily bread and will forgive you and me if we forgive those who have hurt (trespassed against) us.
May Thanksgiving be a wonderful springboard to Advent as we prepare ourselves for the birth of the baby Jesus.
A Joyful Thanksgiving to all,
Fr. John Waiss
Photo by Pro Church Media on Unsplash