Renew My Church Preparation
Come January, St. Mary of the Angels will enter Renew My Church, phase I: Discernment and Decisions. 
"Parish teams selected by the pastors meet with other parish teams in their grouping to pray and reflect upon the current realities of their communities. The archdiocese and the grouping teams develop scenarios that show potential models of how parishes and schools in that grouping could be configured in the future… This phase concludes when Cardinal Cupich makes his final decisions regarding any structural changes affecting the grouping based on the recommendations and information he has received from each grouping, the presbyteral council, and the archdiocesan commission" (https://www.renewmychurch.org/parish-grouping-process/discernment-decisions).
So, in 3 months we will meet with the other parish teams and review the current realities and trends in our parish and in the other parishes in our grouping. After reviewing that data, we will evaluate various action scenarios—to combine certain parishes, collaborate in certain area, close certain buildings, etc.—and then give the Archdiocese feedback on those scenarios. From that feedback, the Presbyteral Council will make a recommendation to the Cardinal for final decision. 
This is your parish family—we want everyone involved and informed. As we progress, you will have an opportunity to let us know the level of involvement you would like to have in this process.
Did you know?… Within 2 miles of St. Mary of the Angels there are 19 other Catholic churches: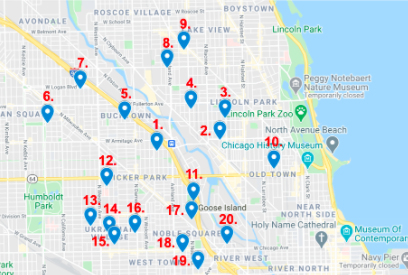 Of the 20 Catholic churches, 3 are grouped together with St. Mary of the Angels to begin the Discernment and Decision phase: Can you guess which three are in our grouping?