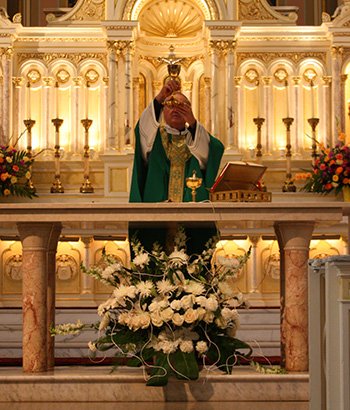 The Pandemic Corpus Christi, 2020 
Welcome back! Now is the moment we have all been waiting for—the ability to start going to Mass again and to receive our Lord in Holy Communion. But this is the moment Jesus himself has been waiting for: engaging us in a wonderful embrace and dialogue, just as he did with the apostles, as well as with women and men disciples after his death and resurrection. Jesus says to us: Welcome back, oh you of little faith! Have you believed because you have seen me? Blessed are those who have not seen (or received) and yet believe.
Our Lord was sad to have been away from us over these past few months. He wants to be with us, that is why he instituted the Sacrament of his presence—the Eucharist. But he has also been sad for the many people who were receiving him unworthily, committing mortal sin and going to Holy Communion without saying I'm sorry; others were going to Communion, not to please Jesus but to avoid looking bad; still others were going not knowing what they were doing—that receiving Holy Communion really is receiving the Body, Blood, Soul, and divinity of Jesus Christ—but were doing so just because everyone else was.
During this time, instead of receiving our Lord in Holy Communion we should have been making many spiritual Communions, perhaps saying: "I wish, my Lord, to receive you, with the purity, humility and devotion with which your most Holy Mother received you, with the spirit and fervor of the saints."
Let's prepare ourselves for just that: to receive Jesus Christ in Holy Communion, with purity—let's rid ourselves of all impurity and vices that offend our Lord by making a very good examination of conscience and a good Confession. That would please Jesus Christ a lot, and show him that we are not just sad for our sins, but for all those who took him for granted in the past. We will do our penance and add some extra prayer and sacrifice to make up for all these offenses.
Let's receive him with humility, no comparing ourselves to others or worrying about what they may think of us but focusing on him, on his love and mercy, and his call to me to treat others in the very same way I would treat him.
Let's receive him with devotion, dedicating the time and effort from this moment on to prayer, to spending some time each day before the tabernacle or in adoration—if possible—in an attempt to love him with the same kind of love with which he has loved me.
If we strive to do this, then the brief absence from Holy Communion will be worth it, because every time we receive Communion from this moment on will be more intense and more pleasing to God; we will be more effective in our witness to Jesus Christ, living out our Baptismal commitments faithful; we will more effectively overcome divisions, anger, and hatred we see in our society and help create the civilization of love God wants for his family, the Church.
Welcome back!