Letter from the Prelate (1 April 2020)
With Holy Week only a few days away and amid so much suffering, Monsignor Fernado Ocáriz invites us to look at Christ on the Cross, who is the source of our hope.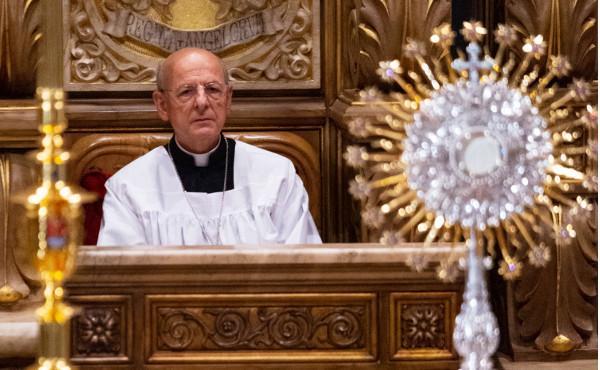 My dear children may Jesus watch over my daughters and sons for me!
The Paschal Triduum is drawing near, when the liturgy will invite us to contemplate these great mysteries of God's love for us. In the current time of suffering all over the world due to the pandemic, let us look frequently at Christ Crucified. Let us see in the Holy Cross, as the Pope helped us to consider this past March 27, the anchor of salvation that keeps us from shipwreck. From there Jesus illumines the meaning of suffering and even helps us to discover that, with his grace, we are able not to lose our joy. And what is more, many times we are able to recover it: Gaudium in Cruce!
At this time we have experienced how human solidarity, above all when it is informed by charity, pours itself out in generous service to others: beside the bed of a sick person, in a line at the supermarket, in caring for one's own family, which is frequently isolated in a few square meters… Let us pray a lot for the people who are dying, for the sick—including faithful of the Work—and for their families. Let us address our grateful prayer to our Lord for the countless persons who are continuing to provide these and many other indispensable acts of service. They are a witness to the fact that the soul of any society is the spirit of service.
We can't allow anxiety or fear to rob us of our peace, because, as Saint Paul wrote, Christ is our peace! (cf. Eph 2:14). In the circumstances of greater or lesser difficulty in which we find ourselves, let us place our trust in God's love for each of us: He knows what is best and never abandons anyone. As Saint Josemaria reminded us, "What great trust, peace and optimism you will find, in the midst of difficulties, from realizing you are children of a Father who knows everything and can do everything" (Letter, 9 January 1959). With our trust placed above all in God—and not in our own strength—each of us can offer our talents to joyfully assist others, which will always be compatible with suffering and tears.
I invite you to take advantage of the opportunities that technology offers to follow the Holy Week services united to the Pope. During the upcoming days I will also send you, via the website, some reflections about the mysteries we will be celebrating, so that we can all pray together and be more closely united.
Your Father blesses you with all his affection,
Rome, 1 April 2020
Mensaje del Prelado (1 abril 2020)
A pocos días de la Semana Santa y en estos momentos de tanto sufrimiento, Mons. Fernando Ocáriz nos invita a mirar a Cristo en la Cruz que nos salva y es fuente de esperanza.
Queridísimos: ¡que Jesús me guarde a mis hijas y a mis hijos!
Se acerca ya el Triduo Pascual, unos días en los que la liturgia nos llevará a contemplar esos grandes misterios del amor de Dios por nosotros. En los actuales momentos de sufrimiento en todo el mundo debido a la pandemia, miremos mucho a Jesucristo Crucificado. Veamos en esa Santa Cruz, como nos lo hacía considerar el Papa el pasado 27 de marzo, el ancla de salvación que impide el naufragio. Desde allí Jesús ilumina el sentido del sufrimiento e incluso nos hace descubrir que, con su gracia, podemos no perder la alegría; es más, podemos muchas veces volver a recuperarla: Gaudium in Cruce!
En estos días estamos experimentando cómo la solidaridad humana, sobre todo cuando está informada por la caridad, se vuelca en generoso servicio a los demás: junto a la cama de un enfermo, en la caja de un supermercado, en el cuidado de la propia familia aislada tantas veces en escasos metros cuadrados… Recemos mucho por las personas que fallecen, por los enfermos –también fieles de la Obra– y por sus familias. Dirijamos al Señor nuestra oración agradecida por esas innumerables personas que continúan prestando esos y otros indispensables cuidados: son un testimonio de que el alma de la sociedad es el espíritu de servicio.
Que la ansiedad o el miedo no nos quiten la paz porque, como escribe san Pablo, ¡Cristo es nuestra paz! (cfr. Ef 2,14). En las circunstancias más o menos difíciles en que nos encontremos, pongamos nuestra confianza en el amor de Dios por cada uno: Él sabe más y no abandona a nadie. San Josemaría nos lo recuerda: «Qué confianza, qué descanso y qué optimismo os dará, en medio de las dificultades, sentiros hijos de un Padre, que todo lo sabe y todo lo puede» (Carta 9-I-1959). Con esta seguridad puesta sobre todo en el Señor –y no solo en nuestras fuerzas– cada uno podrá aportar sus talentos para ayudar con alegría a los demás, que será siempre compatible con el sufrimiento y con las lágrimas.
Os invito a aprovechar las oportunidades que nos ofrece la tecnología para seguir los oficios de Semana Santa junto al Papa. Durante los próximos días os enviaré también, a través de la web, algunas consideraciones sobre estos misterios que celebraremos para, de esta manera, rezar juntos y estar más unidos.
Con todo cariño os bendice
vuestro Padre
Roma, 1 de abril de 2020