Loving Beatitude: the Goal of Christian Morality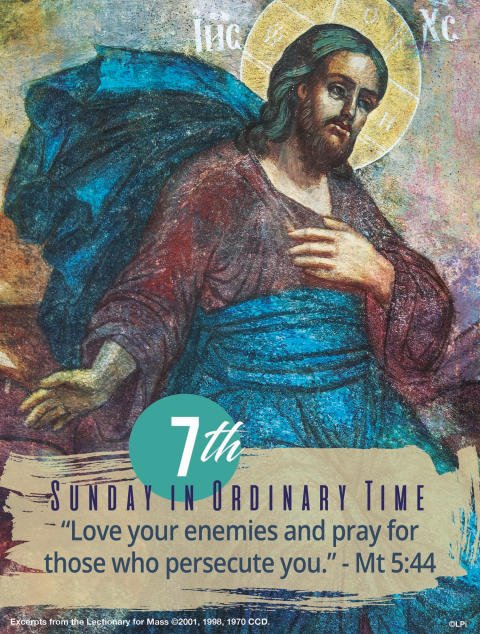 Often our society portrays Christian morality as something negative, a series of don'ts: Don't kill… don't miss Mass on Sunday… don't lie or steal… In other words, don't have any fun… If morality is perceived as a list of arbitrary rules that restrict and control our lives it becomes quite unattractive and repulsive. True Christian morality is a positive affirmation of love, the roadmap guiding us to our goal—to know, love, and serve God in this life, and to enjoy a deep, happy, intimate relationship with Him forever in heaven.
Jesus tries to raise our eyes higher and go beyond doing the minimum by giving us the Beatitudes: blessed (happy) are the poor in spirit… the pure of heart… the merciful… If our actions arise from love and reflect love, it will make us truly happy and lead to seeing God in heaven. Beatitudes challenge us to give ourselves truly beyond the minimum.
The Beatitudes do not wipe out the Commandments, but help us to fulfill them, as our Lord says—after giving us the Beatitudes:
"Think not that I have come to abolish the law and the prophets; I have come not to abolish them but to fulfill them… Whoever then relaxes one of the least of these commandments and teaches men so, shall be called least in the kingdom of heaven; but he who does them and teaches them shall be called great in the kingdom of heaven" (Matthew 5:17,19).
Ultimately, all moral actions are about love, which fulfills all the Commandments:
"And he said to him, 'You shall love the Lord your God with all your heart, and with all your soul, and with all your mind. This is the great and first commandment. And a second is like it, You shall love your neighbor as yourself. On these two commandments depend all the law and the prophets'" (Matthew 22:37-40).
So, God's love story continues in each one of us, in our response to his invitation to love. Thus the Bible teaches us that morality is a way of living, not just a set of rules. True morality reflects what it means to be human, what fulfills our life and gives it meaning; it is our life's goal: to be happy. For Christians Christ is that way, the way of love, the way of blessed happiness, the way to be holy, even as God is holy.
Be Good, Be Happy
Happiness then should be everyone's goal, everyone's pursuit. But happiness seems so elusive, as we often pursue it in the wrong ways. As Pope Francis says, we undermine happiness: by controlling or trying to please others; by withdrawing from others so as to not be hurt by them; by anxiously filling one's life with activity and hurriedly pursuing fun or accomplishments; seeking happiness in possessions and consumerism; filling one's life with news and entertainment, killing precious time with family and friends; seeking relief from one's own failure by cutting down others; trying to overcome insecurities by manipulating others to one's own beliefs, instead of trying to attract them to the truth.
One may try to pursue happiness by engaging in these behaviors, but they only cause angst and sadness instead. So the Pope encourages us to live calmly, give yourself to others generously, turn off the TV, and be positive.
Our Lord summarizes these suggestions in this: "Whoever humbles himself like this child, he is the greatest [and happiest] in the kingdom of heaven" (Matthew 18:4). A child is happy, because he knows he is not in control; a child pleases his parent simply by smiling, not by doing or following rules; a child is trusting and fears no one; a child doesn't rush but enjoys the moment, especially in playing with parents and siblings…
So be happy, be good!
-Fr. John Waiss
Bienaventuranza Amorosa: Meta de la Moral Cristiana
Con frecuencia nuestra sociedad presenta la moral cristiana como algo negativo, como una serie de "no": No mates… no faltes a Misa el domingo… no mientas o robes… En otras palabras, que no se divierta… Si la moral es percibida como una lista de reglas arbitrarias, que solo sirven para restringir y controlar nuestras vidas, entonces se vuelve no atractiva y repulsiva. La verdadera moral cristiana es una afirmación positiva de amor, el mapa que nos guía a nuestra meta: conocer, amar y servir a Dios en esta vida, y disfrutar una profunda, feliz e íntima relación con Él por siempre en el cielo.
Al darnos las Bienaventuranzas, Jesús trata de elevar nuestros ojos más altos y que vayamos más allá de lo mínimo: bienaventurados (felices) son los pobres de espíritu… los de corazón puro… los misericordiosos… Si nuestras acciones surgen del amor y reflejan el amor, nos harán verdaderamente felices y nos llevarán a ver a Dios en el cielo. Las Bienaventuranzas nos desafían a realmente entregarnos más allá de lo mínimo.
Las Bienaventuranzas no eliminan los Diez Mandamientos, sino que nos ayudan a cumplirnos, como dice nuestro Señor—después de darnos las Bienaventuranzas:
"No piensen que vine para abolir la Ley o los Profetas: yo no he venido a abolir, sino a dar cumplimiento… El que no cumpla el más pequeño de estos mandamientos, y enseñe a los otros a hacer lo mismo, será considerado el menor en el Reino de los Cielos. En cambio, el que los cumpla y enseñe, será considerado grande en el Reino de los Cielos" (Mateo 5:17,19).
A final de cuentas, todas las acciones morales se refieren al amor, el cual cumple todos los Mandamientos:
"Jesús le respondió: 'Amarás al Señor, tu Dios, con todo tu corazón, con toda tu alma y con todo tu espíritu. Este es el más grande y el primer mandamiento. El segundo es semejante al primero: Amarás a tu prójimo como a ti mismo. De estos dos mandamientos dependen toda la Ley y los Profetas'" (Mateo 22:37-40).
Por lo tanto, la historia de amor de Dios continúa en cada uno de nosotros, en nuestra respuesta a su invitación a amar. Así, la Biblia nos enseña que la moral es una forma de vivir, no sólo una colección de reglas. La verdadera moral manifiesta el significado del ser humano, lo que llena nuestra vida y le da sentido. La moral es la meta de nuestra vida: ser feliz. Para los cristianos, Cristo es ese camino, el camino del amor, el camino de la felicidad bendita, el camino para ser santo, así como Dios es santo.
Sé Bueno, Sé Feliz
La felicidad entonces debe ser la meta de todos, la búsqueda de todos. Pero la felicidad parece tan esquiva, ya que a menudo la buscamos de forma equivocada. Como dice el Papa Francisco, nosotros minimizamos la felicidad: ya sea controlando o tratando de complacer a los demás; retirándonos de los demás para no ser lastimados por ellos; llenando ansiosamente nuestra vida de actividad y persiguiendo apresuradamente la diversión o los logros; buscamos la felicidad en las posesiones y el consumismo; llenándonos la vida de noticias y entretenimiento, matando tiempo precioso con la familia y amigos; buscando alivio de nuestro propio fracaso cortando a otros; tratando de superar nuestras inseguridades manipulando a los demás hacia nuestras propias creencias, en lugar de tratar de atraerlos a la verdad.
Uno puede tratar de perseguir la felicidad envolviéndose en estos comportamientos, pero en lugar de felicidad nos causan angustia y tristeza. Así que el Papa nos anima a vivir con calma, a entregarnos generosamente a los demás, a apagar la televisión y a ser positivos.
Nuestro Señor resume estas sugerencias en lo siguiente: "Por lo tanto, el que se haga pequeño como este niño, será el más grande (y más alegre) en el Reino de los Cielos." (Mateo 18:4). Un niño es feliz porque sabe que él no tiene el control; un niño complace a sus padres simplemente con una sonrisa, no por hacer algo o por seguir reglas; el niño confía y no teme a nadie; un niño no se apresura, sino que disfruta el momento, especialmente jugando con sus papás y hermanos…
¡Así que sé feliz, sé bueno!
-Padre John Waiss
Szczęście: cel moralności chrześcijańskiej
Bardzo często nasze społeczeństwo przedstawia moralność chrześcijańską jako coś negatywnego, cały szereg zakazów: nie zabijaj, nie opuszczaj Mszy świętej, nie kłam, nie kradnij… innymi słowy: nie miej żadnych przyjemności. Jeśli moralność postrzegana jest jako lista ustalonych zasad, które mają na celu jedynie ograniczanie człowieka i kontrolowanie życia, rzeczywiście nie wydaje się niczym przyjemnym, a wręcz odwrotnie, jest bardzo odpychająca. W rzeczywistości jednak, moralność chrześcijańska jest afirmacją miłości. Jest to dla nas mapa, która ma nas doprowadzić do celu, którym jest poznanie i pokochanie Boga oraz służenie Mu w tym życiu, i stworzenie bliskiej i głębokiej więzi z Nim na wieczność w niebie.
Jezus zachęca nas, byśmy chcieli czegoś więcej, niż tylko minimum, dlatego daje nam te błogosławieństwa: błogosławieni ubodzy w duchu… czystego serca… miłosierni… Jeśli nasze czyny będą pochodziły z miłości i okazywały miłość, staniemy się wtedy prawdziwie szczęśliwi i będziemy oglądać Boga w niebie. Błogosławieństwa popychają nas do dawania z siebie więcej niż tylko minimum. Błogosławieństwa nie przekreślają przykazań, lecz pomagają nam je wypełniać, o czym mówi Pan Jezus:
Nie sądźcie, że przyszedłem znieść Prawo albo Proroków. Nie przyszedłem znieść, ale wypełnić. […] Ktokolwiek więc zniósłby jedno z tych przykazań, choćby najmniejszych, i uczyłby tak ludzi, ten będzie najmniejszy w królestwie niebieskim. A kto je wypełnia i uczy wypełniać, ten będzie wielki w królestwie niebieskim. (Mt 5:17, 19)
Ostatecznie cała moralność opiera się na miłości, która wypełnia przykazania:
Będziesz miłował Pana Boga swego całym swoim sercem, całą swoją duszą i całym swoim umysłem. To jest największe i pierwsze przykazanie. Drugie podobne jest do niego: Będziesz miłował swego bliźniego jak siebie samego. Na tych dwóch przykazaniach opiera się całe Prawo i Prorocy. (Mt 22:37-40)
Tak więc Boża historia miłosna ma kontynuację w każdym z nas, w naszej odpowiedzi na jego zaproszenie do miłości. Dlatego też Biblia uczy nas, że moralność to droga przez życie, a nie jedynie zbiór zasad. Prawdziwa moralność ukazuje, co oznacza bycie człowiekiem, ukazuje to, co wypełnia nasze życie i nadaje mu sens; jest ona celem naszego życia: osiągnięciem szczęścia. Dla chrześcijan to Chrystus jest tą drogą, drogą miłości, drogą błogosławionego szczęścia, drogą do świętości na podobieństwo Boże.
Bądź dobry, bądź szczęśliwy
Szczęście powinno być celem każdego człowieka. Szczęście jest jednak trudne do zdefiniowania, przez co często podążamy w złym kierunku. Mówi o tym papież Franciszek: "Pomniejszamy szczęście: starając się kontrolować innych lub im przypodobać; odsuwamy się od ludzi, by nas nie zranili; wypełniamy całe życie szalonym pościgiem za przyjemnościami lub osiągnięciami; szukamy szczęścia w posiadaniu i konsumpcji; zapełniamy nasze życie informacjami i rozrywką; zabijamy cenny czas, który powinniśmy mieć dla rodziny; szukamy usprawiedliwienia swoich niepowodzeń przez zrzucanie winy na innych; staramy się pokonać swoje własne lęki przez przerzucanie ich na innych, zamiast wspólnie poszukiwać prawdy".
Można starać się poszukiwać szczęścia w taki sposób, lecz doprowadzi nas to jedynie do lęków i smutku. Papież zachęca nas, byśmy żyli spokojnie, poświęcali się dla innych, wyłączyli telewizję i myśleli pozytywnie.
Pan Jezus podsumowuje to tymi słowami: "Kto się więc uniży jak to dziecko, ten jest największy w królestwie niebieskim" (Mt 18:4). Dziecko jest szczęśliwe, ponieważ wie, że to nie ono wszystko kontroluje. Dziecko rozwesela swoich rodziców swoim uśmiechem, a nie przez sztywne wykonywanie poleceń. Dziecko się nie spieszy, lecz delektuje się chwilą, szczególnie podczas zabawy z rodzicami czy rodzeństwem.
Bądźmy więc szczęśliwi, bądźmy dobrzy!
-Ks John Waiss