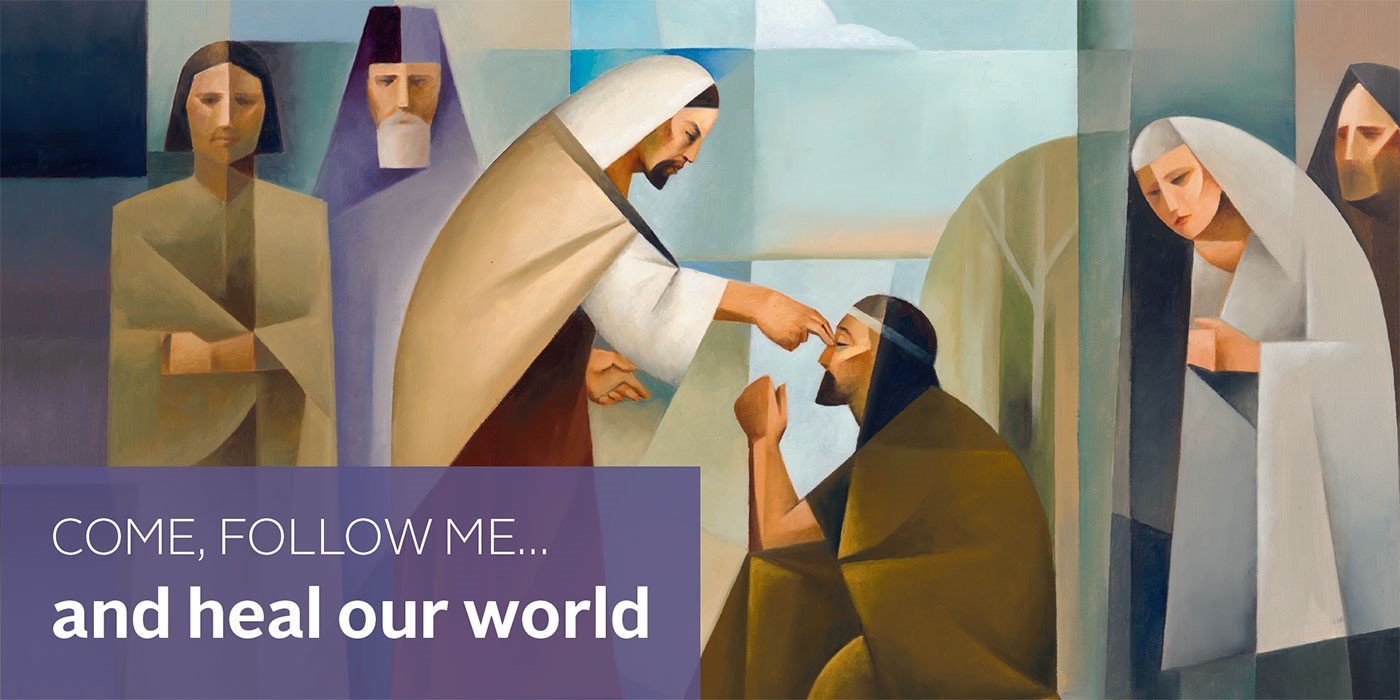 In last week's Gospel, Jesus said: "A city set on a mountain cannot be hidden. Nor do they light a lamp and then put it under a bushel basket; it is set on a lampstand, where it gives light to all in the house." A city, or a church like St. Mary of the Angels with its 125-foot high dome, cannot remain hidden. We are here to share light to the city of Chicago. St. Mary of the Angels witnessed to the pagan, agnostic and atheistic world, that there is light and meaning in life. How many individuals have walked into this church and have experienced that reality, a sense of peace… a spiritual awakening… a connection to God that brought back meaning a purpose to their lives. Some joined RCIA others have returned to Confession and the other Sacraments… others have been moved to reconcile with their estranged family members.
You too are light of this world. You let your light shine, as the first reading said: "Share your bread with the hungry, shelter the oppressed and the homeless; clothe the naked when you see them, and do not turn your back on your own. Then your light shall break forth like the dawn." Many of you already reach out to the needy: helping out with the Women's Center to support mothers with unplanned pregnancies, or do jail ministry, or help feed the homeless at our Lady of the Angels or Catholic Charities, etc. So, by letting your light shine, we are letting the world know that joy and peace can be attained through self-giving love and service.
2020 Annual Catholic Appeal
Now we must move on to the Annual Catholic Appeal that we will be participating in the next two weeks. Our parish is asked to raise $30,000— a goal we always meet. By doing so we help support various charities and poorer parishes, schools, and programs around the Archdiocese of Chicago. We also serve people around the world, whose lives are devastated by natural disasters, illnesses, wars and famine through Catholic Relief Services.
Please spend some time this week reflecting on the Annual Catholic Appeal brochure. The Annual Catholic Appeal is much different than a onetime special collection. It is a pledged campaign commitment where you can make a gift payable in installments over a span of time.
Your contributions and generosity are deeply appreciated. Once we reach our parish goal of $30,000 in paid pledges, any additional funds come back to our parish to help fund our needs. Last year, with our rebate, we were able to fund our new boiler, which will be installed in two weeks—finally!
If you received your pledge form in the mail, please complete it and mail it back or bring it to Mass next weekend. For those of you who did not receive a mailing or have not had time to respond, we will conduct our in-pew pledge process at all Masses next weekend.
Some have asked about ways to support that doesn't go to the Archdiocese. We started Christmas in June to help us offset the operational deficit accumulated in recent years. 100 percent of these donations will remain with the parish! Consider an ongoing pledge to that. This is done easiest by making a recurring gift—weekly, monthly, quarterly, yearly… you choose! By this we hope to go into Renew My Church in 2022 with a surplus in our operating budget and yearly financials.
We know that supporting the church financially can hurt, especially if we are generous. But this is a consequence of knowing "the mystery of God" and of "Jesus Christ, and him crucified… [as our faith] rests not on human wisdom but on the power of God," as St. Paul wrote in the second reading. It is all a matter of faith and generosity… and God is never out done in generosity! So let's keep the light of faith shining on Chicago and the world through our self-giving… and we'll give glory to God!
-Fr John Waiss
NOTA SEMANAL
En el Evangelio del domingo pasado, Jesús dijo: "No se puede ocultar una ciudad situada en la cima de una montaña. Y no se enciende una lámpara para meterla debajo de un cajón, sino que se la pone sobre el candelero para que ilumine a todos los que están en la casa."
Una ciudad, o una iglesia como Santa María de los Ángeles con su cúpula de 125 pies de altura, no puede permanecer oculta. Estamos aquí para compartir la luz a la ciudad de Chicago. Santa María de los Ángeles da testimonio al mundo pagano, agnóstico y ateo que hay luz y sentido en la vida. Cuantas personas han entrado a esta iglesia y han experimentado esa realidad, una sensación de paz… un despertar spiritual… una conexión con Dios que trajo de sentido, un propósito a sus vidas. Algunos han sido parte del Programa RICA… Otros han regresado a la Confesión y a otros Sacramentos… otros han sido llamados a reconciliarse con sus miembros de la familia que estaban alejados.
Ustedes también son la luz de este mundo. Dejen brillar su luz, como dice a primera lectura: "compartir tu pan con el hambriento, y albergar a los pobres sin techo; cubrir al que veas desnudo y no despreocuparte de tu propia carne. Entonces despuntará tu luz como la aurora". Muchos de ustedes ya ayudan a los que lo necesitan; ayudando en el Centro para la Mujer para poyar a madres con embarazos no planeados, o ayudan en el ministerio de la cárcel, o ayudan a alimentar a los limosneros en Nuestra Señora de los Ángeles o Caridades Católicas, etc.
Por lo tanto, al dejar que su luz brille, estamos haciendo saber al mundo que la alegría y la paz se pueden lograr a través del amor y el servicio que se entregan voluntariamente.
Campaña Católica Anual 2020
Ahora debemos pasar a la Campaña Católica Anual en la que participaremos en las próximas dos semanas. A nuestra parroquia se le pide que recaude $30,000, una meta que siempre cumplimos. Al hacerlo, ayudamos a apoyar a varias organizaciones benéficas y parroquias, escuelas y programas más pobres alrededor de la Arquidiócesis de Chicago. También servimos a personas de todo el mundo, cuyas vidas están devastadas por desastres naturales, enfermedades, guerras y hambrunas a través de los Servicios de Socorro Católicos.
Por favor, dediquen algún tiempo esta semana reflexionando en el folleto anual de Apelación Católica. La Campaña Católica Anual es muy diferente de una colecta especial de una sola vez. Es un compromiso de campaña donde usted puede hacer un donativo pagadero en cuotas durante un lapso de tiempo.
Sus contribuciones y generosidad son profundamente apreciadas. Una vez que alcancemos nuestra meta parroquial de $30,000 en promesas pagadas, cualquier fondo adicional regresa a nuestra parroquia para ayudar a financiar nuestras necesidades. El año pasado, con nuestro reembolso, pudimos financiar nuestro nuevo sistema de calefacción, que se instalará en dos semanas, ¡Por fin!
Si recibió su formulario de compromiso por correo, por favor complételo y envíelo por correo o tráigalo a Misa el próximo fin de semana. Para aquellos de ustedes que no recibieron un correo o no han tenido tiempo de responder, llevaremos a cabo nuestro proceso de compromiso aquí en todas las Misas del próximo fin de semana.
Algunos han preguntado acerca de maneras de contribuir de manera que su donativo no vaya a la Arquidiócesis. Hemos comenzado la campaña "Navidad en Junio" para ayudarnos a compensar el déficit operativo acumulado en los últimos años. ¡El 100 por ciento de los donativos que se reciban para esta campaña permanecerán en la parroquia! Por favor considere hacer una promesa continua para esta campaña. Esto se hace más fácil al hacer un regalo en pagos: semanal, mensual, trimestral, anual… ¡usted elige! Con esto esperamos comenzar en el proceso Renovar Mi Iglesia en el año 2022 con un superávit en nuestro presupuesto operativo y finanzas anuales.
Sabemos que apoyar financieramente a la iglesia puede doler, especialmente si somos generosos. Pero esto es una consecuencia de conocer "el misterio de Dios" y de "Jesucristo, de Jesucristo crucificado… [como nuestra la fe] no se basa en la sabiduría de los hombres, sino en el poder de Dios", como escribió San Pablo en la segunda lectura. Todo es una cuestión de fe y generosidad… y Dios no se deja ganar en generosidad! Así que mantengamos la luz de la fe brillando en Chicago y el mundo a través de nuestra auto-entrega.
-Padre John Waiss
NOTATKA TYGODNIA
W Ewangelii z ubiegłej niedzieli Jezus mówi: "Nie może się ukryć miasto położone na górze. Nie zapala się też lampy i nie umieszcza pod korcem, ale na świeczniku, aby świeciła wszystkim, którzy są w domu. Tak niech wasze światło jaśnieje przed ludźmi, aby widzieli wasze dobre uczynki i chwalili Ojca waszego, który jest w niebie".
Miasta, czy też kościoła takiego jak Najświętszej Maryi Panny Anielskiej, z kopułą o wysokości 125 stóp, nie da się ukryć. Jesteśmy tutaj, by dzielić się tym światłem z całym miastem Chicago. Kościół Najświętszej Maryi Panny Anielskiej jest świadectwem w tym pogańskim, agnostycznym i ateistycznym świecie, że w życiu istnieje sens i światło. Ileż to osób weszło do tej świątyni i doświadczyło osobiście tej rzeczywistości, tego poczucie pokoju… duchowego przebudzenia… połączenia z Bogiem, które nadaje życiu sens i cel. Niektóre z tych osób dołączyły do programu RCIA… niektóre powróciły do konfesjonału i innych sakramentów… inni poszli, by pojednać się z bliskimi, z którymi stracili kontakt.
Wy też jesteście światłem świata. Pozwólcie, by Wasze światło jaśniało, kiedy czynicie to, o czym mówi pierwsze czytanie: "Dziel swój chleb z głodnym, do domu wprowadź biednych tułaczy, nagiego, którego ujrzysz, przyodziej i nie odwracaj się od współziomków. Wtedy twoje światło wzejdzie jak zorza". Większość z Was już wyciąga rękę ku potrzebującym, czy to wspierając Centrum Kobiet, czy odwiedzając skazanych w więzieniach, czy pomagając bezdomnym przez Misję Matki Boskiej Anielskiej i katolickie organizacje chrytatywne, itp.
Tak więc pozwalając, by Wasze światło jaśniało, dajecie światu świadectwo, że radość i pokój można osiągnąć przez ofiarną miłość i służbę.
Doroczna Kwesta Katolicka 2020
Przez kolejne dwa tygodnie będziemy uczestniczyli w Dorocznej Kweście Katolickij. Nasza parafia ma na ten cel zebrać 30,000 dolarów. Pomagamy w ten sposób biedniejszym parafiom i szkołom w naszej archidiecezji. Darowizny z Kwesty pomagają poprzez Katolicką Organizację Niesienia Pomocy ludziom na całym świecie dotkniętym klęskami żywiołowymi, chorobami czy głodem
Bardzo proszę, byście zapoznali się z broszurą Kwesty. Darowizny na tę kampanię można składać w ratach rozłożonych w czasie.
Jesteśmy bardzo wdzięczni za waszą szczodrobliwość. Po przekroczeniu naszego celu 30,000 dolarów, wszystkie datki złożone w naszej parafii zostaną dla nas z przeznaczeniem na potrzeby naszej parafii. W ubiegłym roku dzięki nadwyżce na Kwestę zakupiliśmy nowy bojler, który zainstalujemy już za dwa tygodnie – nareszcie! Jeśli otrzymaliście kartę ze zobowiązaniem pocztą, możecie ją wypełnić i odesłać lub przynieść do kościoła w przyszłym tygodniu. Karty zobowiązań są również rozłożone w ławkach – będzie można je wypełnić podczas wszystkich Mszy świętych w tym tygodniu.
Parafianie często pytają mnie, w jaki sposób można finansowo wesprzeć parafię, by całość darowizny została w parafii, a nie była odesłana do archidiecezji. Co roku prowadzimy kampanię "Boże Narodzenie w czerwcu", która pomaga nam zmniejszyć deficyt budżetowy na koniec roku fiskalnego. 100% darowizny przeznaczonej na ten cel pozostaje w naszej parafii! Darowizny na tę kampanię również można składać w ratach: tygodniowych, miesięcznych, kwartalnych… według wyboru! Mamy nadzieję, że dzięki tej kampanii będziemy mogli wejść w program Odnów mój Kościół, który rozpocznie się dla nas w 2022 roku, z nadwyżką w budżecie.
Rozumiemy, że wspieranie finansowe kościoła wiąże się z wyrzeczeniami, szczególnie, kiedy chcemy być wyjątkowo szczodrobliwi. Szczodrobliwość wobec kościoła wynika jednak z "tajemnicy Bożej" i Jezusa Chrystusa ukrzyżowanego, i opiera się "nie na mądrości ludzkiej, lecz na mocy Bożej" o czym mówi św. Paweł w liście do Koryntian.
Wszystko więc sprowadza się do wiary…. a Boga w szczodrobliwości nigdy nie można prześcignąć! Niech więc nasze światło wiary promieniuje na miasto Chicago i na cały świat przez nasze poświęcenie… a w ten sposób będziemy oddawać chwałę Bogu!
-Ks. John Waiss